Wheelchair Accessiible Lymington / Lymingoton self catering holidays
Discover Lymington and Pennington
Our Bench offer family and wheelchair accessible self catering holiday accommodation in Lymington - we would love you to book and stay for a weeks holiday or an out of season break, so we have included a few locations and activity ideas in the Lymington area to enjoy. There are further ideas of places to visit within the New Forest National Park and on some of our favorite Day Trips here. This is not an exhaustive list: facilites, accessibilty, costs and opening hours can vary at any time, so we would recommend that you do your own research to check suitability for you!
Lymington Charter Market
Lymington's Charter Market takes place every Saturday in the bustling High Street from 8am to 4pm and is one of the New Forest's hidden gems.
There are approximately 100 stalls every week selling a manner of edible treats from olives, breads, cakes, fudge, pies, fruit and vegetables to take home with you. Stalls range from plants, local food produce, household goods and craft items. There is something to suit all budgets, whether looking for a hand crafted gift for a loved one or a special souvenir of your trip.It's a superb day out. Visit Lymington Market for more details.
Lymington Quay and Quay Hill
At the bottom of Lymington High Street is the cobbled Quay Hill - there is limited access to some of the shops and restaurants due to their historic interest, but if you do brave the cobbles and the hill, round the corner you will discover Lymington Quay. (There is an alterntive route - turn right at the bottom of the High Street - follow the road to the left and turn left again.) Lymington is one of the UK's premier yachting centres and is located in an enviable position at the 'gateway' to the western Solent making it a popular destination for sailors, power boaters and cruisers throughout the season. The harbour is easily accessible with deep water access to all visitor mooring areas, pop down to the Quay, watch the sailors, enjoy a river cruise or a pirate boat trip*. Sit on the quayside and enjoy a coffee from one of the nearby coffee shops, a Gin & Tonic or a pint in the sunshine - from The Ship Inn, lovely meals too.
Children love crabbing on the quayside too and buckets and lines are available in the local shops, or you can borrow one from us. Details about Lymingon Harbour.
Lymington Sea Water Baths
Seasonal opening but a fantastic family fun all day - they have 200 metres of inflatable obstacle courses, stand up paddle boards, aqua jousting, children's splash pool and more. They have disabled access & facilities. If the weather is hot and sunny - you need to arrive early to ensure your spot on the poolside. Sea Water Baths.
Lymington to Keyhaven Nature Reserve
Lymington–Keyhaven Nature Reserve, covers nearly 500 acres between the mouth of the Lymington River and the village of Keyhaven. There are several attractive circular walks on local footpaths which cross the area, the adjacent mudflats and salt marshes are home to huge numbers of migrating birds, you can have fantastic views of the wildlife, enjoy views accross the Solent to the Isle of Wight. Ideal to explore by bike or foot. Nature Reserve Guide and Map of Walks
St Barbe Museum and Art Gallery
St Barbe Museum allows you to discover more about the New Forest coast, it's maritime heritage and how smugglers made profits locally and more. There are interactive exhibits for families, changing exhibitions, an amazing art gallery and a modern independent coffee shop called the Old School Cafe - named after the building in which it is housed. For more details visit St Barbe Museum Web Site - you can read their accessible guide too.
The Malt Cinema
Lymington Cinema is a friendly community cinema, which showcases a number of films and theatre shows. You can see what is on here. It is easy to access and there is wheelchair viewing at all performances.
Lymington Health and Leisure
Lymington has a 25 meter main pool with easy accessible steps and designated accessible changing rooms, there are fun time sessions with floats and toys on both Saturdays and Sundays for families. A gym with various fitness classes, are also available - none members are welcome to use the facilities. You can find there web site here: Lymington Health and Leisure.
Pennington Common
At the end of the road you can discover Pennington Common - this is part of the New Forest National Park and is home to our nearest play park. The common is regularly home to the Coles Fun Fair, the circus and other community events. There is a short circular walk on the common which details its history and encourages you to discover more. Details of any events we try and share on our facebook page.
Parks and plagrounds
We were recently asked about disabled friendly playgrounds so have started to collect details from the local parish clerks. In Lymington and Pennington there ia wheelchair accessible roundabout at Woodside Park, Rookes Lane, Lymington. Deneside Copse Play Park, Pennington, Lymington has a DDA compliant roundabout and basket swing. (details provided by Lymington town council - May 2019). East Boldre play park has a basket swing. Dudley Avenue play area in Hordle has a 'roadway' which has a variety of interactive board for imaginative play and is accessible by gravel paths, as well as nest swings. Carrington Lane Play Park, off Carrington Lane, Milford, has a level access roundabout and a large trampoline onto which a wheelchair can be pushed. Brockenhurst - Highwood Road playarea has an nclusive roundabout as well as a fully rubber mulch surface.
Lymington to Yarmouth Ferry
There are regular ferries from Lymington to the Isle of Wight - it is just a 40 minute crossing. The views from the ferry across the Solent are stunning and there is so much to explore on the island. We would recommend advance booking your day trip - if you are a bluebadge holder discounts are available. Once on the island you can choose to explore Yarmouth, take a bus tour, or take a drive on the islands roads - your guide to getting around the Island.
New Forest Adventure Golf
Open all year round, New Forest Adventure* golf is an exciting concept in mini golf built with families in mind. It has been created to mirror the New Forest with 18 holes - the uneven terrain which includes two flowing rivers, Boltens Bench, a landmark in Lyndhurst, a pulley operated ferry! In the summer months there is also a lovely pick your own fruit nearby with picnic area and cafe. Their strawberries taste delicious!
Lymington Sailabilty
Lymington SailAbility is a charity that provides sailing and power boat opportunities for people with disabilities. It provides a safe environment that still allows the sense of freedom and exhilaration that sailing can give. Whilst they are not a life saving charity, they can be life changing, often giving people trapped by a disability a sense of control and enjoyment they thought they had lost. More details.
Lymington Golf Centre
Lymington golf centre is offers a 9 hole and 18 hole course, open to non-members all year round. Booking is advisable as they hold regular member events and the course can be busy at peak times. Visitors can book up to seven days in advance and the booking number is 01590 689631.
New Forest Tour Bus
A seasonal open top bus guides you through the magical New Forest with an audio commentary bringing the New Forest to life. Two of the routes stop in Lymington, you can enjoy either circular tour or change buses on route. If you are planning on using the routes more than once, check out the offers on their web site. This is a great way to explore especially if you are looking for a car free holiday. Details of routes and timetables can be found here.
Changing Places

There is a changing places toilet on Bath Road in Lymington. Changing places, Lymington. This facility is located close to the slipway, where you can see the local life boat launch, walk along the water front to the right and discover the marines, watch or enjoy the facilities at Lymington's Sea Water Baths - which although established in 1933, now is home to South Coast's biggest inflatable obstacle course, there is is coffee and ice cream available from the kiosk - so you can just sit outside and enjoy the boats. Alternatively turn right and you discover Bath Road park home to a fantastic children's play area overlooking Lymington River and the Lymington Band Stand which regularily hosts events on Sundays during the summer. Bath Road is also home to a number of artist markets during the summer months and Lymington Sea Food Festival.
We have created a whole web page with information on toilet facilities within the New Forest area. New Forest Public Toilets & Changing Places.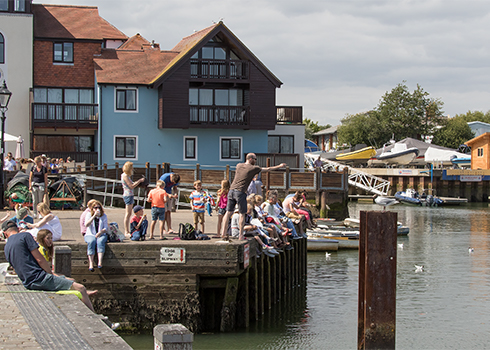 Crabbing on Lymington Quay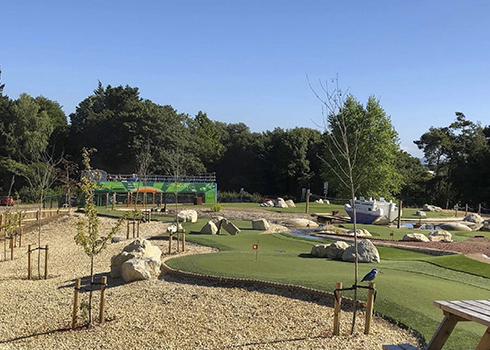 Adventure Golf with a New Forest theme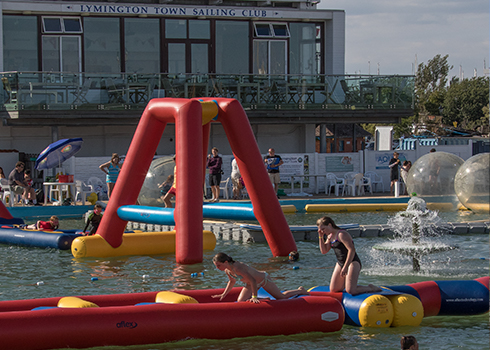 Lymington's Sea Water Baths / Swimming Pool
Where shall we eat tonight?
In your holiday cottage
Not everyone wants to go out to eat whilst on holiday - so we have some great ideas to get you started, if you would prefer a quiet evening in.
Shopping Delivery - Tesco, Asda and Sainsburys all offer this service locally - there may be others. You can arrange for you food delivery to arrive between 10am and 1pm on the Friday of the start of your holiday and we will bring it in for you, or any other time that suits you.
Book an A la Carte home cooked meal - local caters - 7th Wave Events are able to cater for a family meal, BBQ or picnic - if you are arrange to meet up with friends locally - they are a fantastic outside caterers. They will even come and cook a special meal for you in our cottages and take the washing up home!
Frogs & Boks - Our private dining works as follows, we can create your very own bespoke menu for your dinner party. We agree on the date and time for the dinner. We arrive with the food pre-prepared, finish the cook of your dishes in your kitchen, elegantly plate them on our fantastic collection of crockery and serve to you and your guests. We take all the washing up home and leave your kitchen just as we found it - and we cater for minimum of 2 guests - perfect for a night in!
Takeaway - at Foxpond (SO41 8DW) - there is a selection of takeways including Indian (Forest Tandoori), Chinese, Thai, Fish and Chips, the nearest fish and chip shop is on the village square and can be recommended. Rivaaz also have a great india menu (and are in St Thomas' Street) - they cater for gluten free clients
Home cooking made easy - Lymington has its very own Cooks where you can buy homecooked frozen meals, you can shop online and collect after 2 hours - their entrance has a large step - we only have a small freezer in the cottages - but this is the perfect treat if you want home cooking without the effort.
Eating Out
There are lots of pubs, restaurants and coffee shops in the Lymingon area that are worth a visit, we are not able to list them all - but we will suggest just a few of our favorites that you are welcome to try.
Don't want a pub?
The choice does not end with pubs - if you are after fine dining - it is well worth checking out what Stanwell House has to offer. Or the delighted of The Pig at Brockenhurst, the Kitchen at Careys Manor and many more...
Lymington is also home to a couple of Indian Restaurants, a pizza restaurant, an Italian restuarant, a Burger and Lobster bar, Thai restaurants and traditional English - there is something for every budget. You can view some of the local favorites here on Trip Advisor.
Cafes
Cafes are a great place for breakfast and lunch - Lymington is home to a number of well known chains, some of our favorite coffee places are tucked away, so thought we would share them with you.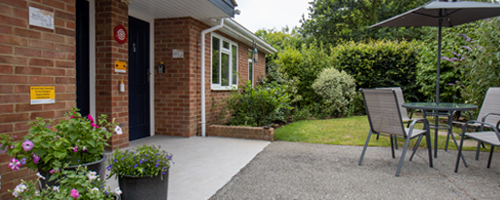 Bench Cottage
Sleeps up for 4
Profiling bed and head and foot riser beds both accessible by ceiling hoist
Second twin bedroom with electric beds
Accessible Wet Room with H Hoist & changing table
Adjustable height wash basin
Shower chair available
More Details and latest Availability
Garden Bench
Sleeps up for 5
Profiling bed / carers bed with discrete ceiling hoist
King or twin bedroom with head and foot riser beds.
Private secure garden with a lovely sunny patio
Wheelchair friendly kitchen
Traditional woodburner for winter breaks
More details and book online for best price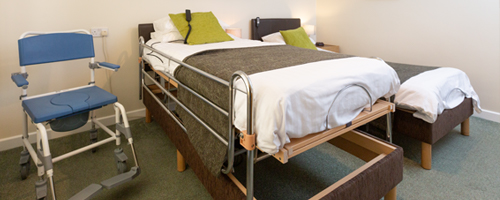 Little Bench
Sleeps up for 2
Profiling bed and head and foot riser beds both accessible by ceiling hoist
King or twin bed options.
Accessible Wet Room with optional shower chair
Riser Recliner Chair
Level access throughout
More details and book direct
Holidays in Lymington are available all year round - out of season it is often quieter and more restful