Our Bench - Our Story and Contact us
Discover more about Our Bench
Our Family Business
Our Bench was orignally established as a Bed and Breakfast accommodation in the 1980's, when the owners Mary and Roger Lewis offered a full English breakfast and ensuite accommodation in their family home. The opportunity arose to build two self catering holiday cottages - Little Bench and Bench Cottage. These were purpose built with accessible accommodation at the forefront of accessible development and when they opened in 2001 they were the first holiday cottages in Hampshire that provided level access throughout, had split level kitchens and a modern accessible wet room.
Why Accessible Cottages?
Mary had been registered disabled for a number of years and with increasing loss of mobility they struggled to find anywhere to holiday themselves - so they decided other people would be having the same difficulties, so built two cottages. In 2009, Roger passed away after a battle with pancreatic cancer and the business continued with Mary's daughter Helen and her husband Matt accommodating the guests that had already booked. One of Helen and Matt's three children was diagnosed with a rare episodic medical condition in 2011 and this highlighted to them the need for accessible accommodation for families. Helen and Matt invested in the third property - Garden Bench, which was completely refurbished in 2012.
Why are they named after Benches?
Mary and Roger Lewis lived at Our Bench, Roger proposed to Mary at Bolton's Bench in Lyndhurst - a well known local landmark - and they agreed to have a Bench of their own one day - as the business developed the cottages were named after this dream - Bench Cottage, Little Bench (the smaller cottage), Garden Bench (the first with a fully enclosed garden).
Who owns them today? At the end of 2018, Mary retired from the business (after 30 years working in the tourism industry) and was brought out by her daughter and son-in-law, the cottages were refurbished again with the addition of ceiling hoists, new equipment, an adult changing table (changing places facility) being added to the facilities that are available, and ensuing that each holiday cottage is unique - and that "Our Bench" continues to evolve to suit potential guests needs. 2019 saw us increasing our online presence, introducing online bookings and incoporating our love for photography into the business.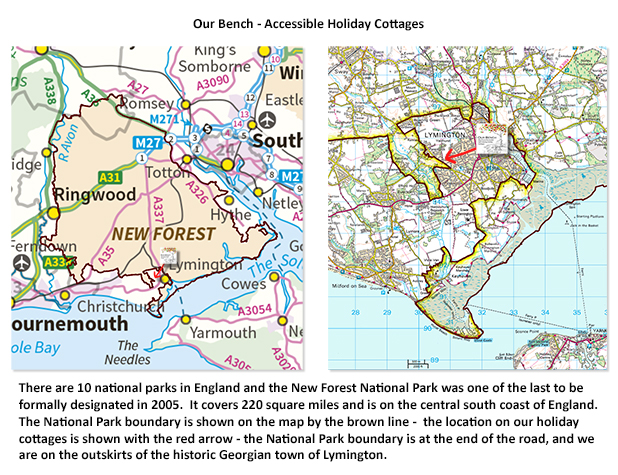 Our Location on the South Coast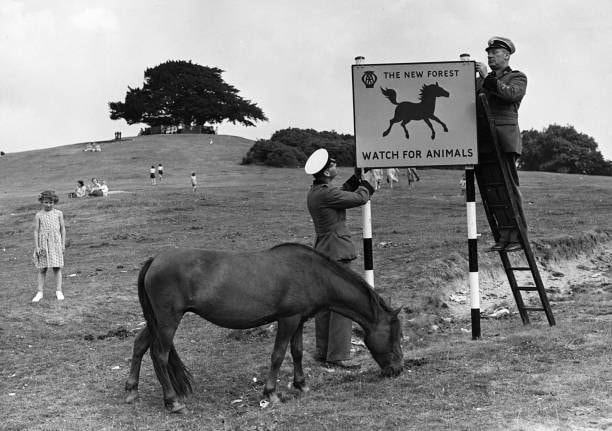 New Forest in 1955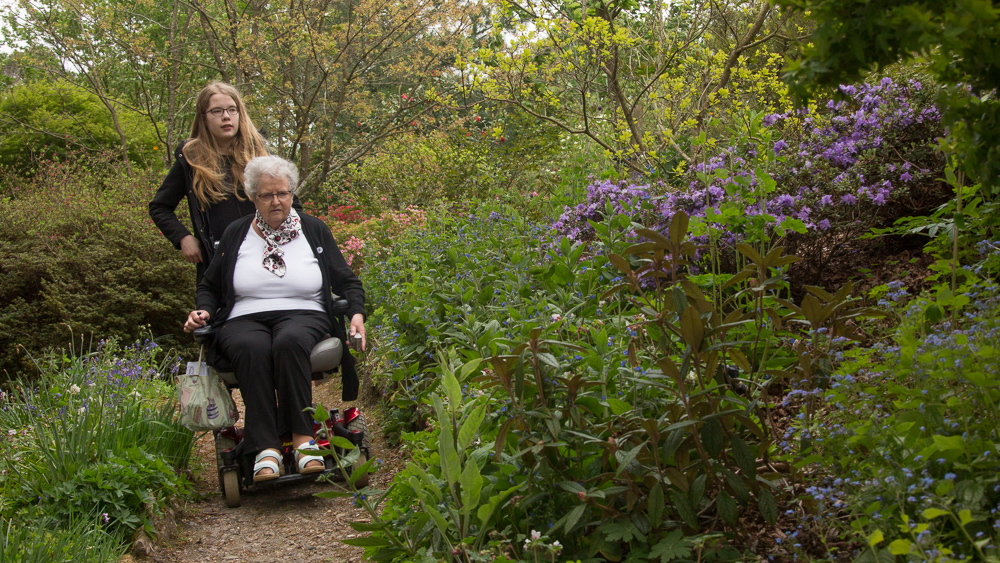 Mary with her grandaughter before she retired
Where are you?
Our Bench Holiday Cottages are on the outskirts of the New Forest National Park, the park boundary is at the end of the road, and yet we are within easy reach of the beautiful Georgian Town of Lymington. There are lots of suggestions of places to visit on our web site as we encourage you to explore this special area.
Happy to answer your questions
If you have any questions about the facilities on offer at Our Bench Self Catering Accommodation, the additional equipment that we have available or any concerns regarding suitabilty of the accommodation - we would be happy to help - we know everyone is unique and we are happy to answer any of your questions and can be contacted via phone, email, post or Facebook.
We have included a variety of information on our web site - each property has it's own access statement that you can download, we have included details of the equipment we have available and ideas of places to visit and explore during you stay - have a browse through the useful information section.
The best way to book your chosen dates is direct through our web site - they are instantly reserved for you and you can secure your booking with credit card, although there are options for bank transfer and postal payments too. Our web site has the most up to date information - even we check it before we take a new booking!
For the lastest suggestions of places to visit, forth coming events, and recent news then follow us on facebook: https://www.facebook.com/OurBenchSelfCatering. We love sharing information about places we have visited, places to eat that are accessible, local events etc so this is a great way to enhance your holiday, you are welcome to complete an enquiry form
Holiday Availabilty For All Three Cottages - Book Now!