Photoshoots for families, in an accessible photostudio
A special Day in the New Forest
At Our Bench we offer all our guests the unique opportunity to enjoy a photoshoots with Helen either at our holiday cottages or on location in the New Forest. Helen is a part time photographer at RenoufDesign, she is also one of the photographers for Butterfly Wishes, a National Organisation which offers families the opportunity to capture special memories of families of children with life-shortening conditions.
Photos are then delivered via an online gallery on RenoufDesign - once your holiday is over - this gallery can be passworded on request. There is no charge for the shoot. You can choose 6-8 favorite images from an online gallery afterwards which you canhave as digital files for you to print, share and treasure if we have permission to share them on our web site, any photos you dislike from the album can be removed.

You are welcome to share the whole album with friends and family. You have no obligation to purchase anymore images, and we don't ask you too, but you are welcome too - additional digital images are normally £19.99 each, with prints from just £10, which will be sent to your directly, and you can order once you have returned home.
If you would like to arrange this then please let us know once you have booked your holiday or even when you arrive (Subject to availability) and we can arrange a convenient time.
Since 2020, we have access to an accessible photography studio less than 2 minutes walk from the holiday cottages, which means we are able to accommodate photoshoots for families whatever the weather - and subject to availability may be able to arrange this last minute during your stay.
Bob and Rowena celebrated 50 years of friendship
Bob and Rowena celebrated 50 years of friendsip and their 49th Wedding Anniversary during their stay in our holiday cottages, the original plan was a photoshoot on their favorite walk - the tree top trail, but they have spend a lovely week enjoying the garden of Little Bench and Bench Cottage that they decide they would prefer to have the photographs taken their, they also spent the week with brand new friends, Jan and Rob whom were staying in the cottage next door. It was a pleasure to capture these photos of them both.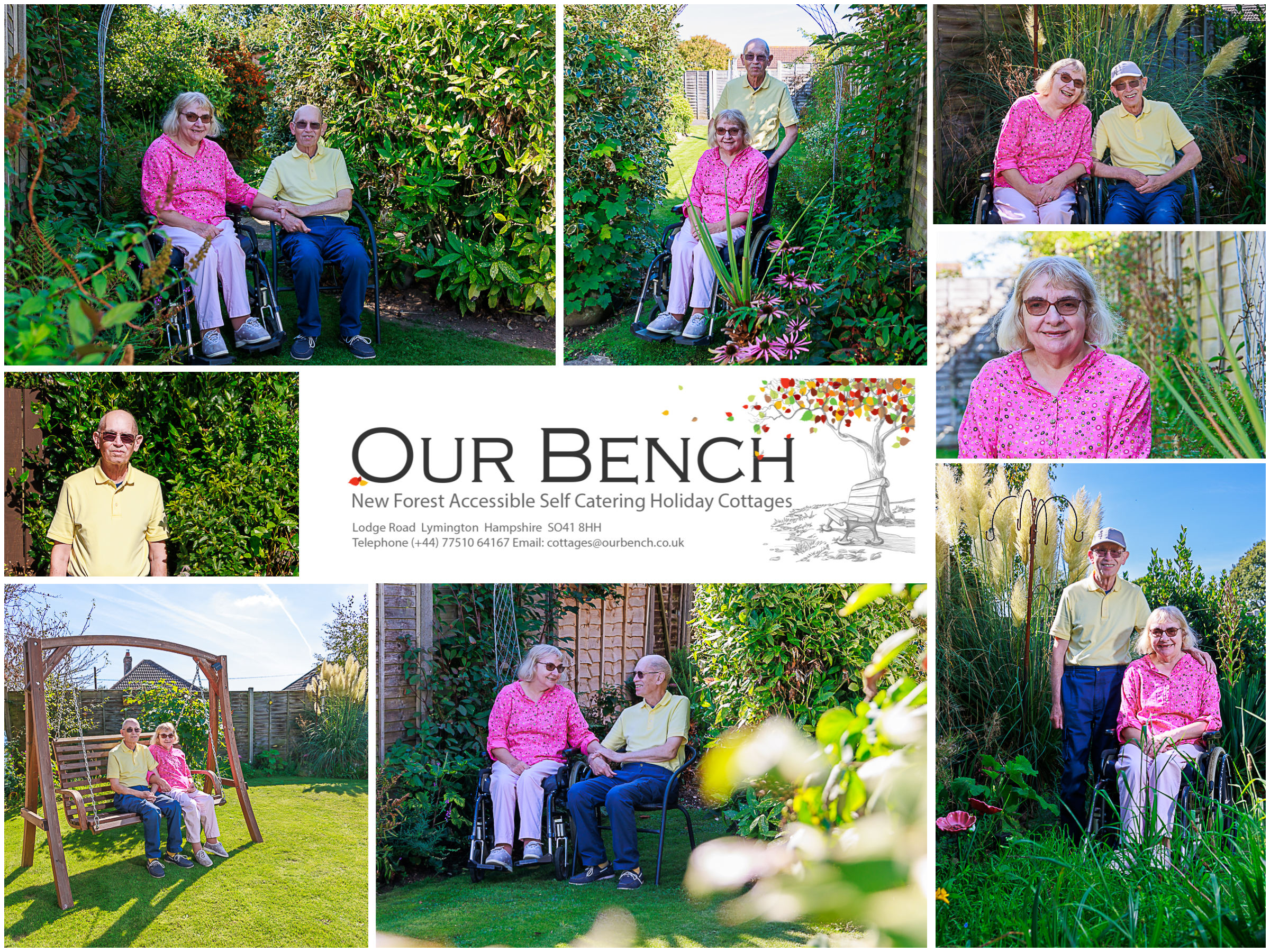 The Jackson Family
Four generations of the Jackson family have come to stay in Garden Bench on a couple of occassions, this year we took the opportunity to take them to nearby Woodside Gardens to wonder around the garden with almost two year old Kenny, with his mum, grandparent and great grandparents, we were able to walk around the accessible gardens, enjoy the flowers, spot a squirrel and the fairy doors, and then have some time enjoying the park. We adored being able to capture such precious memories for the family to share.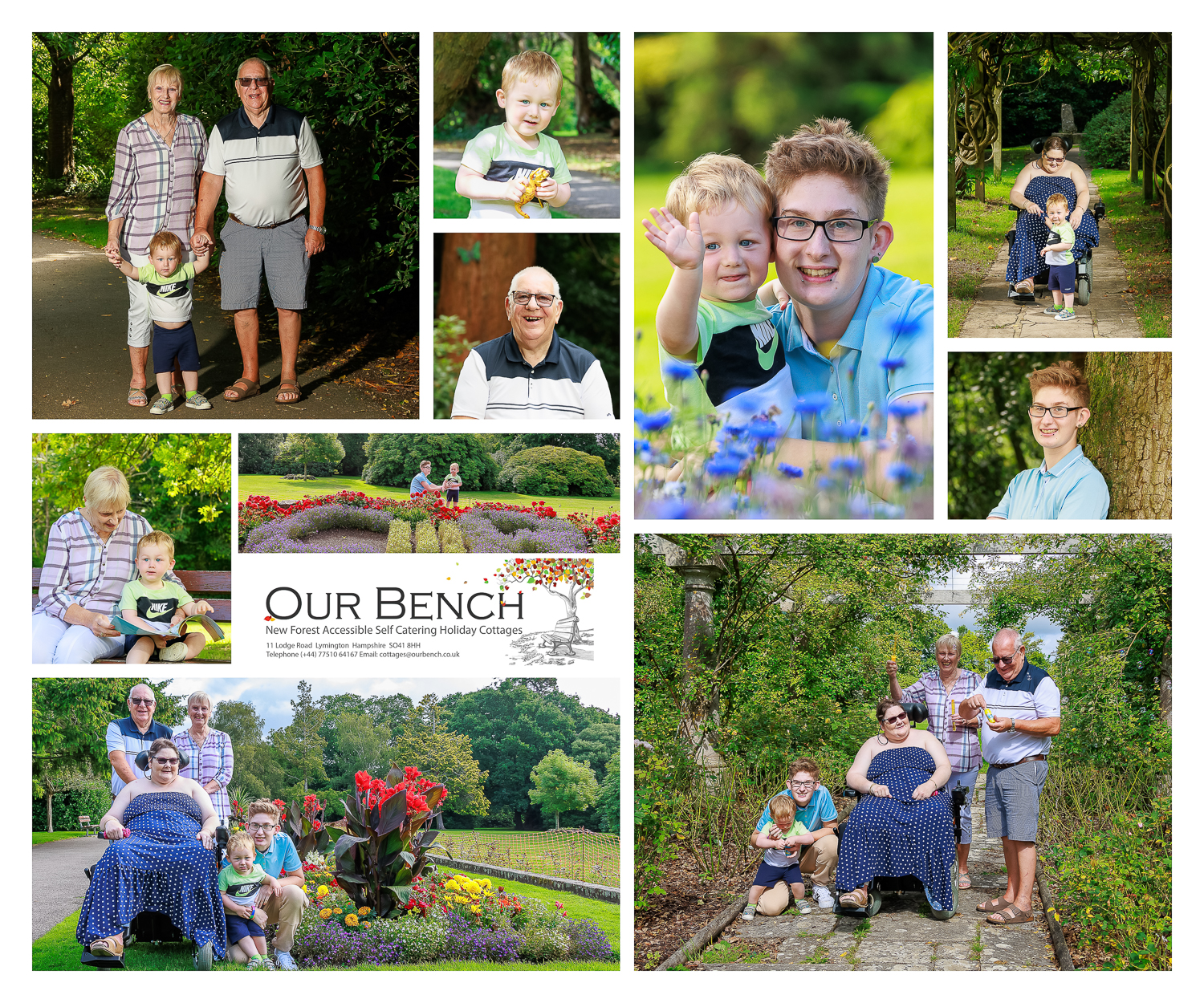 Hannah's Hampshire Holiday
Hannah came for a holiday in Bench Cottage with her carers and had an amazing week - she visited Exbury, Monkey World, saw New Forest ponies, played crazy golf, ate out and cooked in our accessible kitchen and planned all sorts of exciting adventures, at the end of her holiday - her carers asked if we could squeeze in a photoshoot so that Hannah could gift her parents a photo of herself for a special anniversary - and we just loved capturing her humour, her smile and her joy!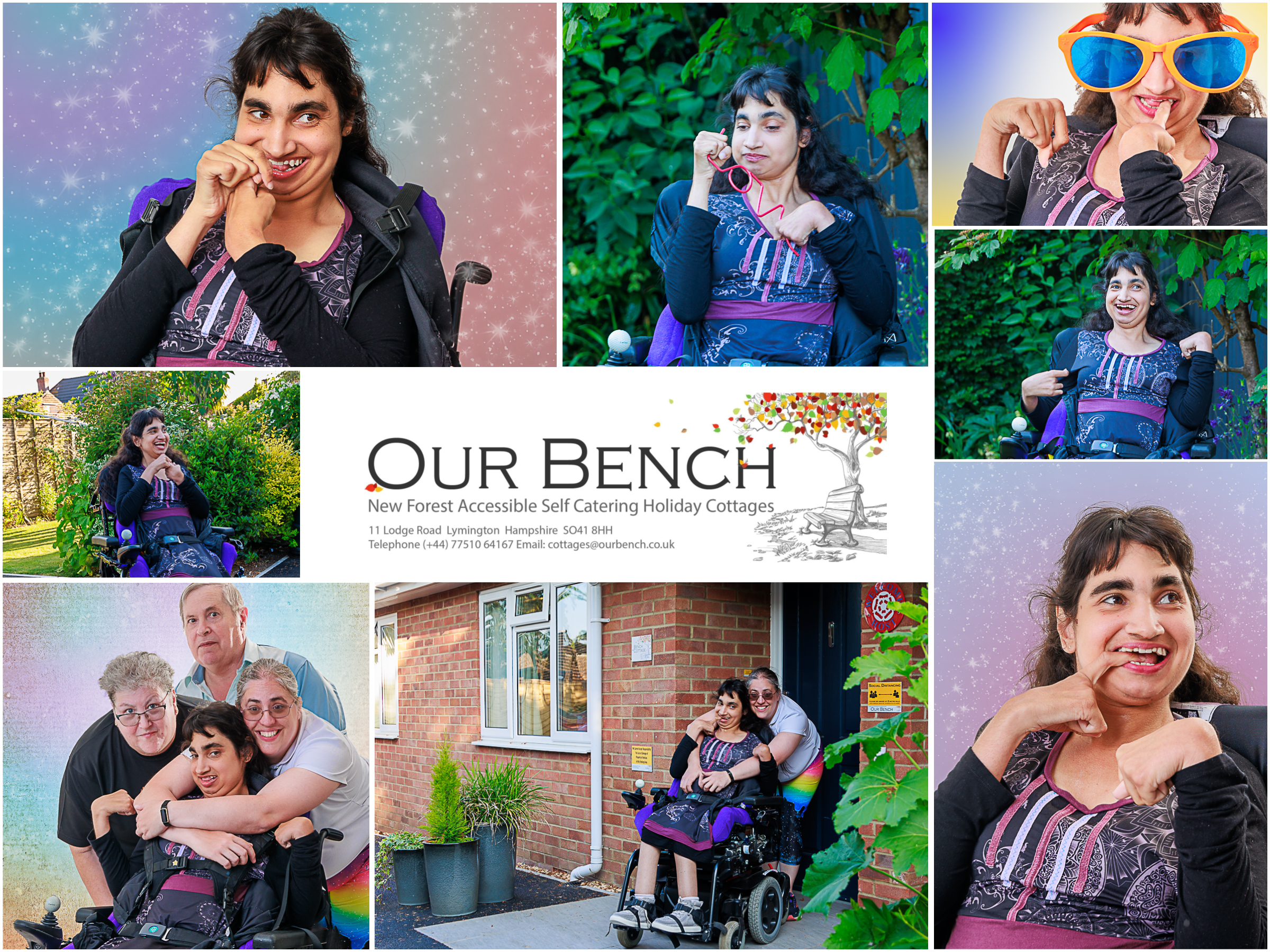 Wetwheels Adventure
Jane and Henry came to stay in Lymington to celebrate Henry's 70th birthday - they choose an amazing week to come and stay in the New Forest at Wet Wheels Hamble were on tour that week and were offering the opportunity for people to take a boat trip out from Lymington, and I was thrilled to be invited along to take photos of them on the boat, and afterwards back in our accesssible photo studio close to the cottages. There are so many different activities available for our guests in the New Forest - we have tried to list as many of them as we can on our web site - and if we are available we maybe to join you to capture some amazing memories.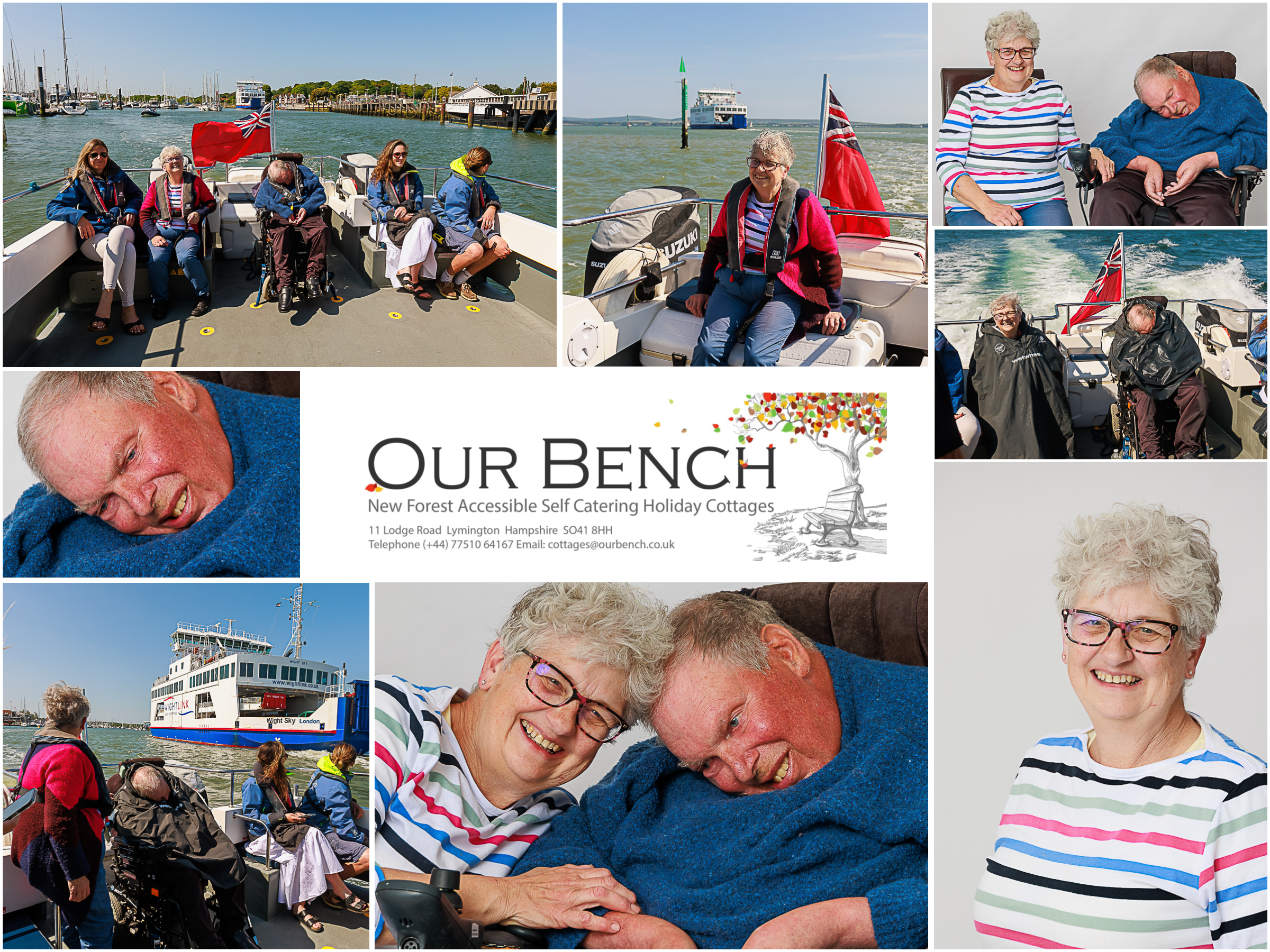 Sisters
Emily, Matt and their children Lydia and Annie came to stay with us during the Easter Holidays, they had a lovely week making memories in the New Forest and I was able to bring the whole family together on a damp morning during their stay to capture some memories and magic moments. Children grow up so quickly, so it is important to capture their energy and smiles!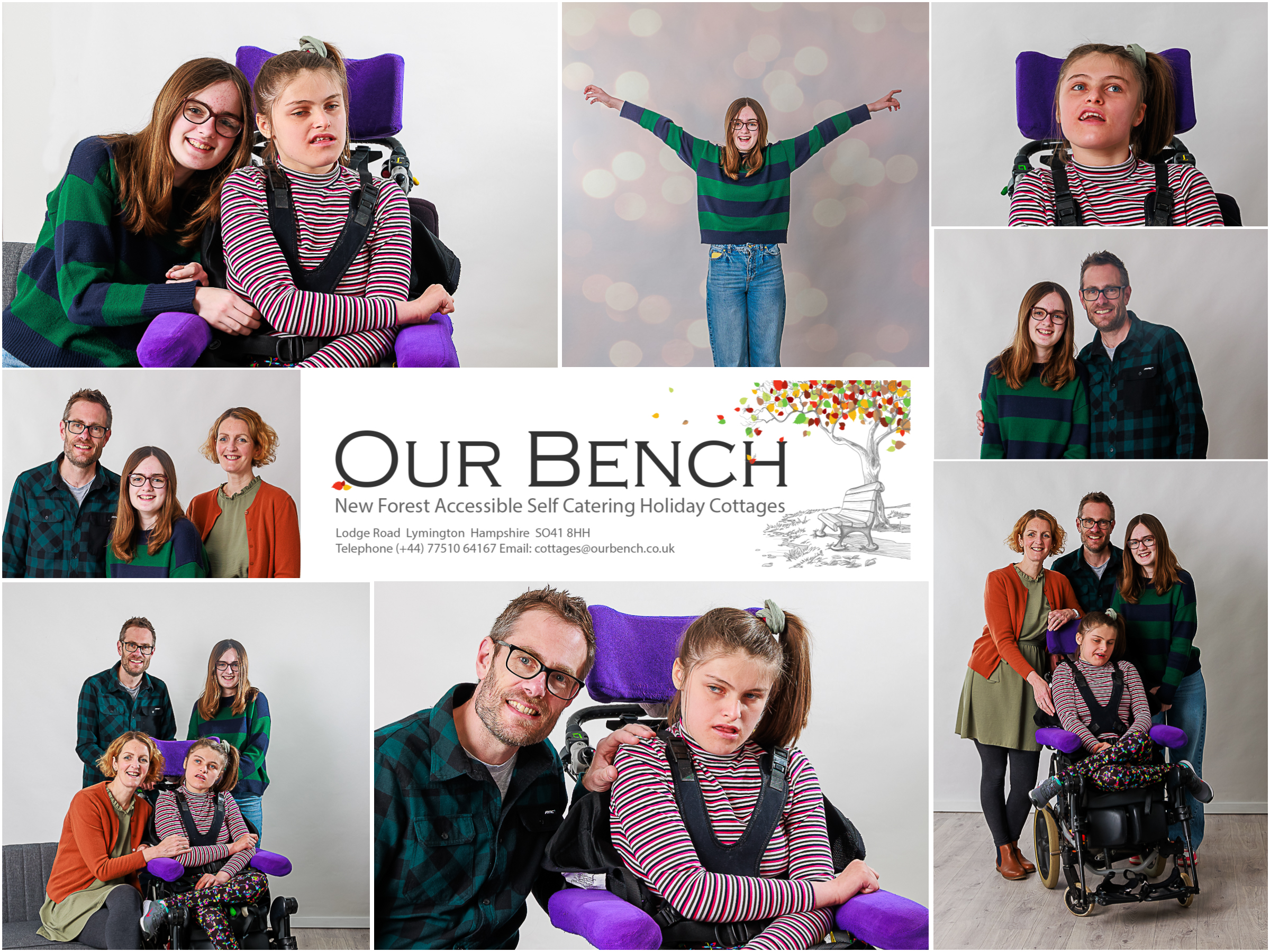 Three Generations
Our Bench Holiday cottages offer the opportunities for families to spend time together, whether as a holiday with three generations staying in the holiday cottage as with 4 month old Josie, her mum, dad and grandma or as a base for those with mobility needs to stay so that they can visit loved ones and met the next generation in the New Forest area. Our accessible studio space which is just 2 minutes walked from the holiday cottages offers the opportunity to capture these special memories to treasure for a life time, and can be planed into your holiday whatever the weather.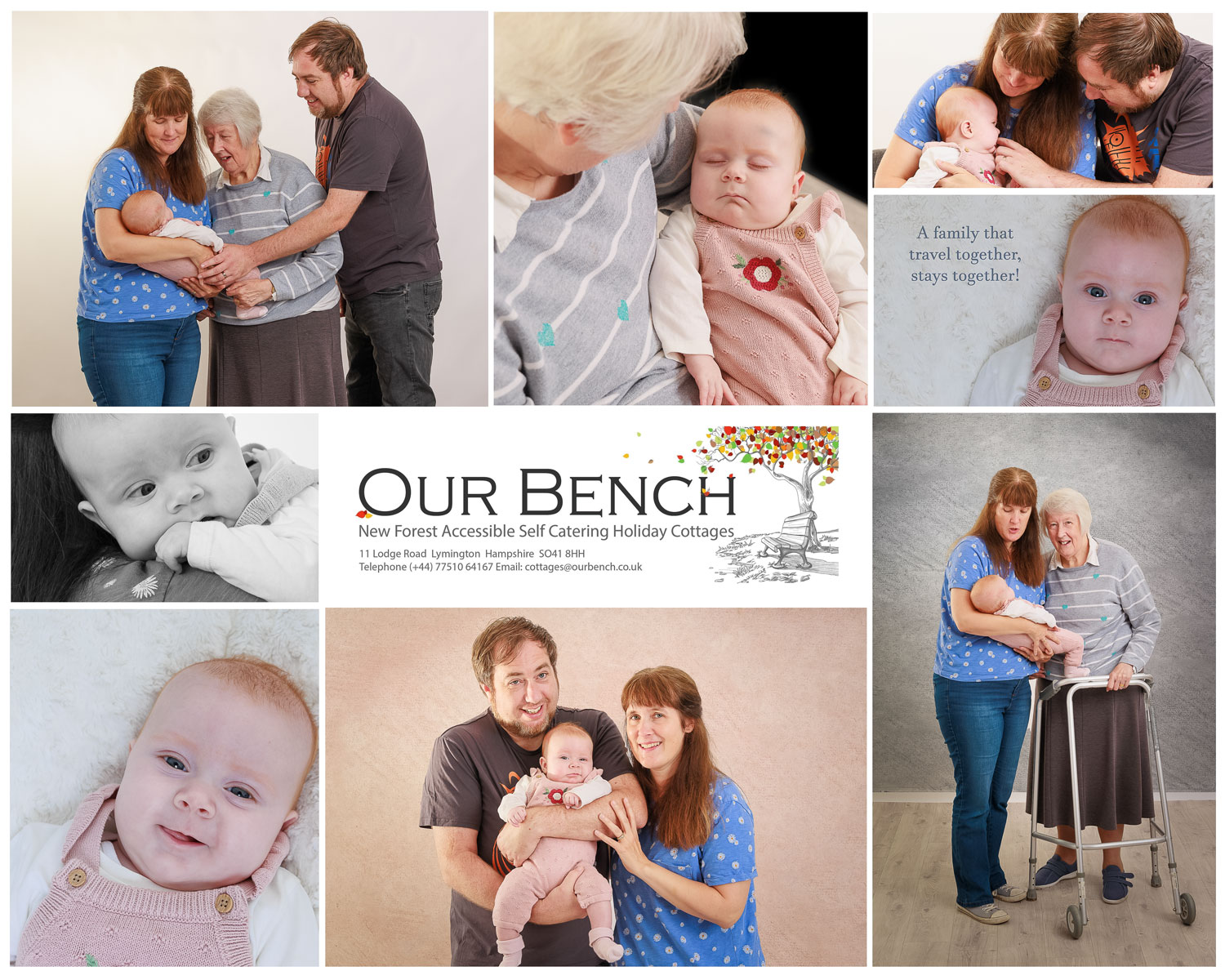 Just the girls!
Maggie, her wife, daughter and granddaughters came to stay in the New Forest for an early spring break and took the opportunity to have some all important "Girl Time!" and we were able to capture some wonderful photos of the five of them to treasure in our accessible photostudio which is just 2 minutes walked from the holiday cottage. They struggled to choose their favorite photos and decided to purchase the whole album of images!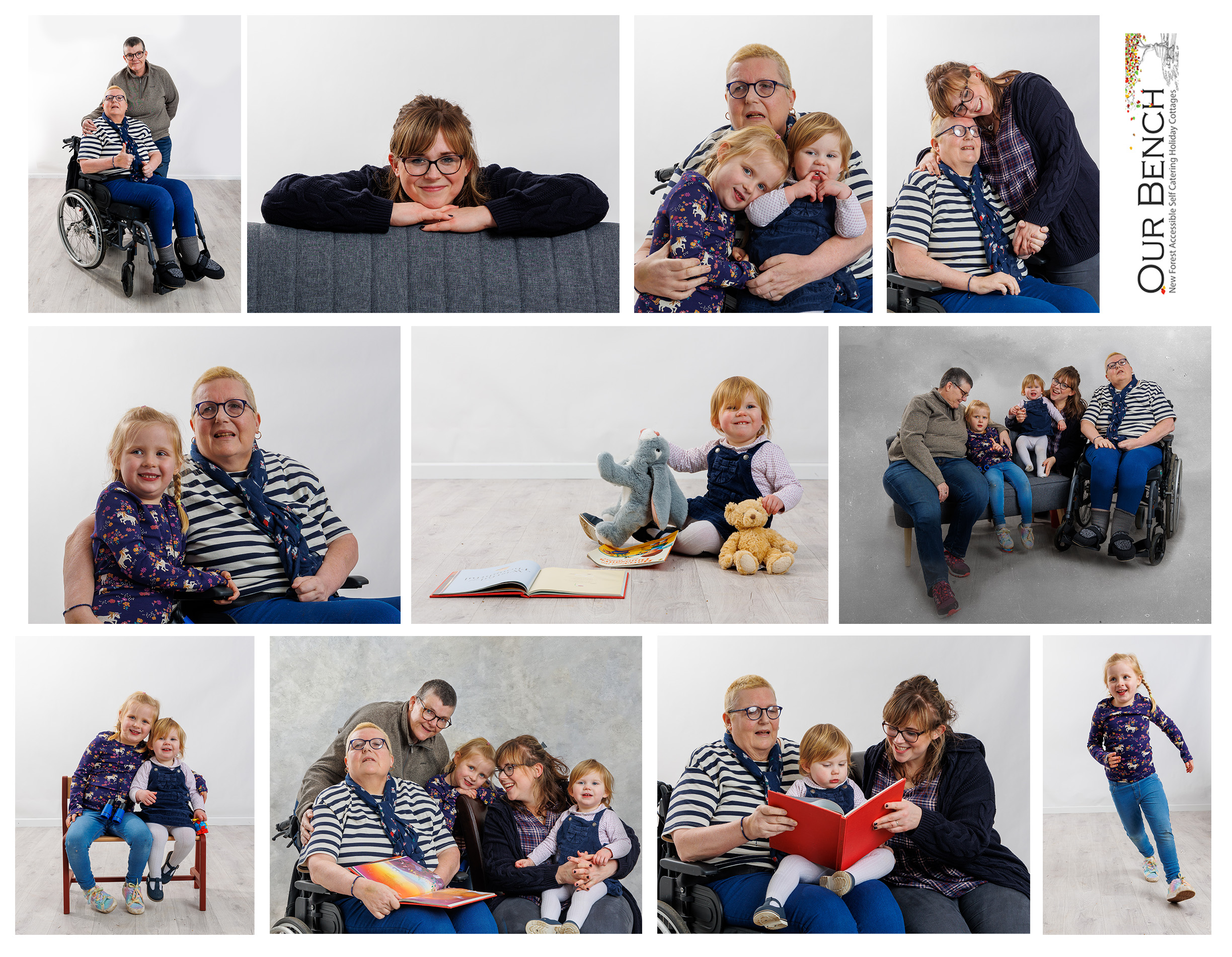 Mike, Julie and Josh
Mike, Julie and Josh have stayed with us a couple of times, and we discovered that Mike had a paddle board - as keen paddleboarders we were delighted to be able to take him out on the water, so he could enjoy some of the local area and we planned it it we that is also included a lovely riverside walk for Julie and Josh, the opportunitu to relax over ice creams and smoothies and to have some relaxing moments together - and we captured a few photos or memories for them the family to treasure.

Charlotte and her family
Four year old Charlotte came and stayed in Garden Bench on holiday in the New Forest with her mum and dad (Gemma and Nathan) and Grannie and Grandpa - (Sue and Brian) - one of Our Bench's self catering cottages -and took the opportunity to request an accessible (powerchair friendly) walk in the New Forest and have some photos taken of them enjoying making memories together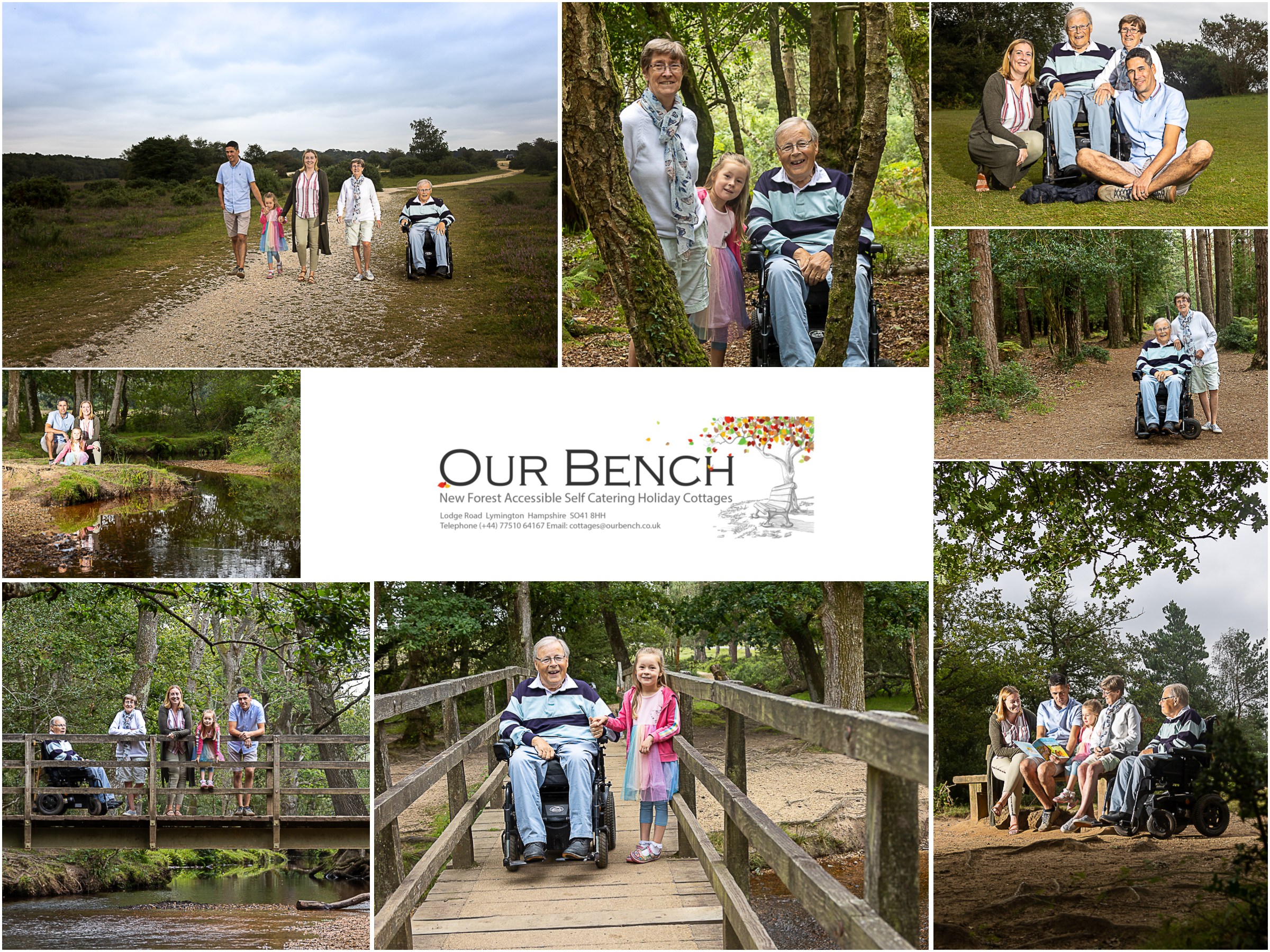 Jack and Chloe
Jack and Chloe came to stay with their family in Bench Cottage, and their parents requested some photos of the two of them together and individually during the school holidays, which they hoped they could use to share with family members and friends. Jack and Chloe are twins, and they had a really busy week with the New Forest as their holiday base, and it was lovely that they both choose to dress up for their photography experience.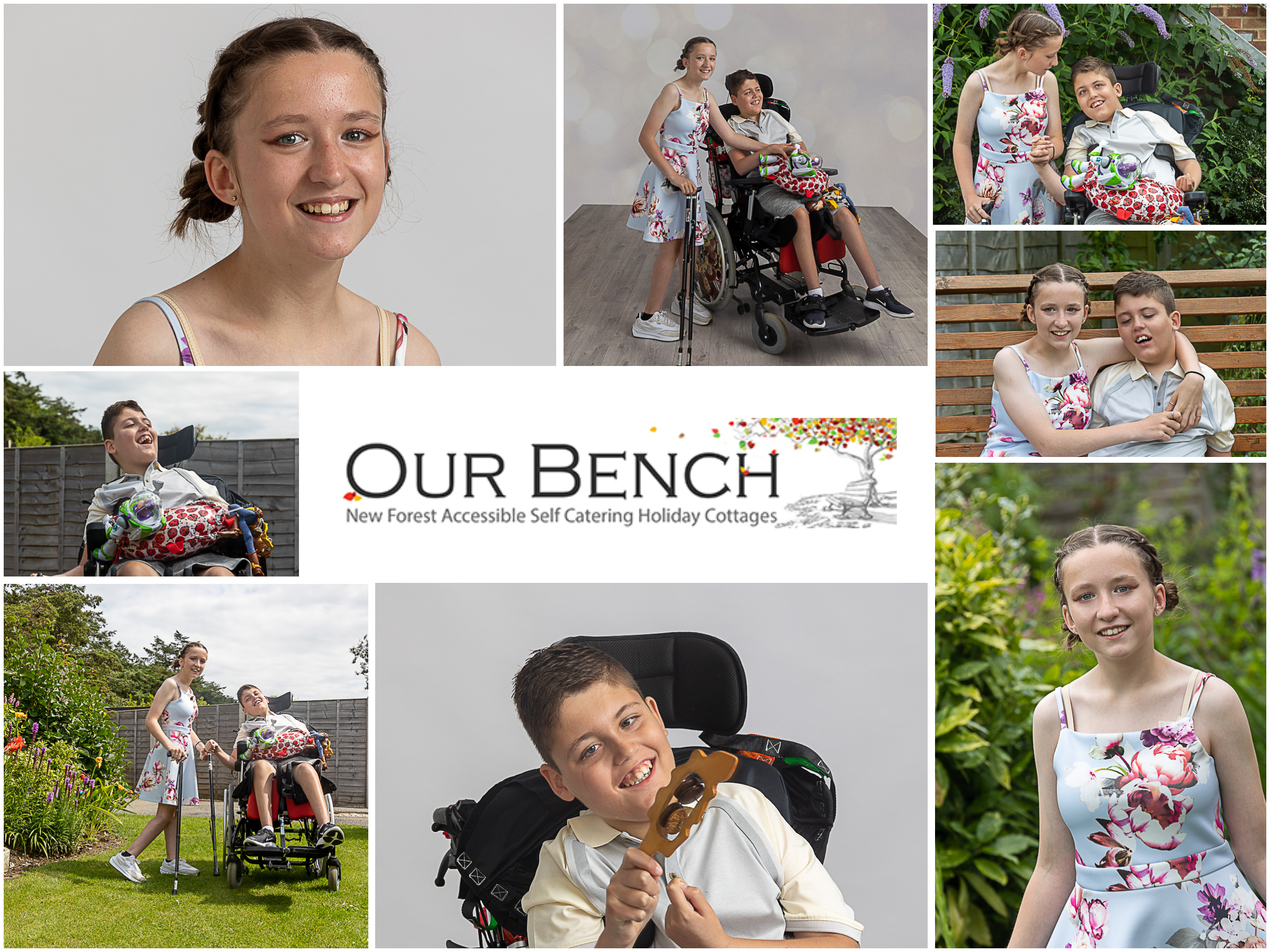 Jack and Chloe Grew up!
Jack and Chloe came to stay with their family in Garden Bench for a second holiday with us, two years after their first visit and it was amazing to capture these amazing twins once again - as they have grown so much and their personalities have really developed, a chat with Chloe led to some photos with a more teenage vibe, so you could use them to share with her friends. These images highlight to us, just why capturning your memories is so important as they grown up before your eyes!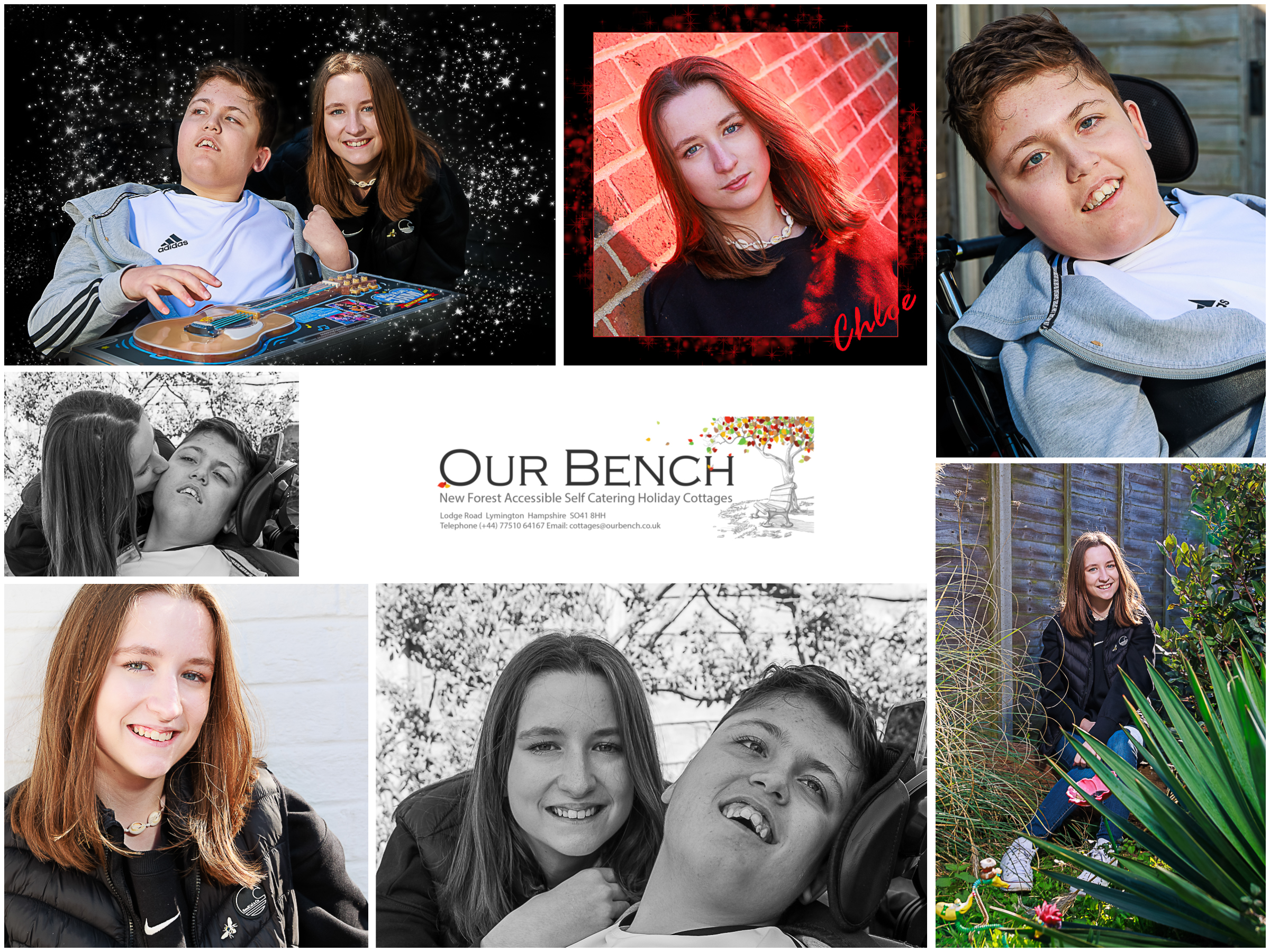 Lorraine and Ellen
Lorraine came to stay with us for a 2nd visit in the summer of 2021 with her carer Ellen for a 2 week stay whilst she had essential work done at home, the idea of her holiday was to ensure Lorraine had access to the accessible facilities she needed, a break from normal enviroment and an amazing holiday - during their two week stay they incoporated an amazing variety of activities from a Wet Wheels boat trip, to a New Forest Peddall forest bike ride, trips to Exbury Gardens, Longdown Activity Farm, the Science Centre at Winchester, several swimming trips to a pool with hoist facilities and more. We loved hearing about it - and joined Lorraine and Ellen on a walk in the forest - to tell thm more about the area's history and to enable them to enjoy a quiet forest walk It was lovely to see the relationship between these two friends. You can view the gallery here: Lorraine's Forest Photos.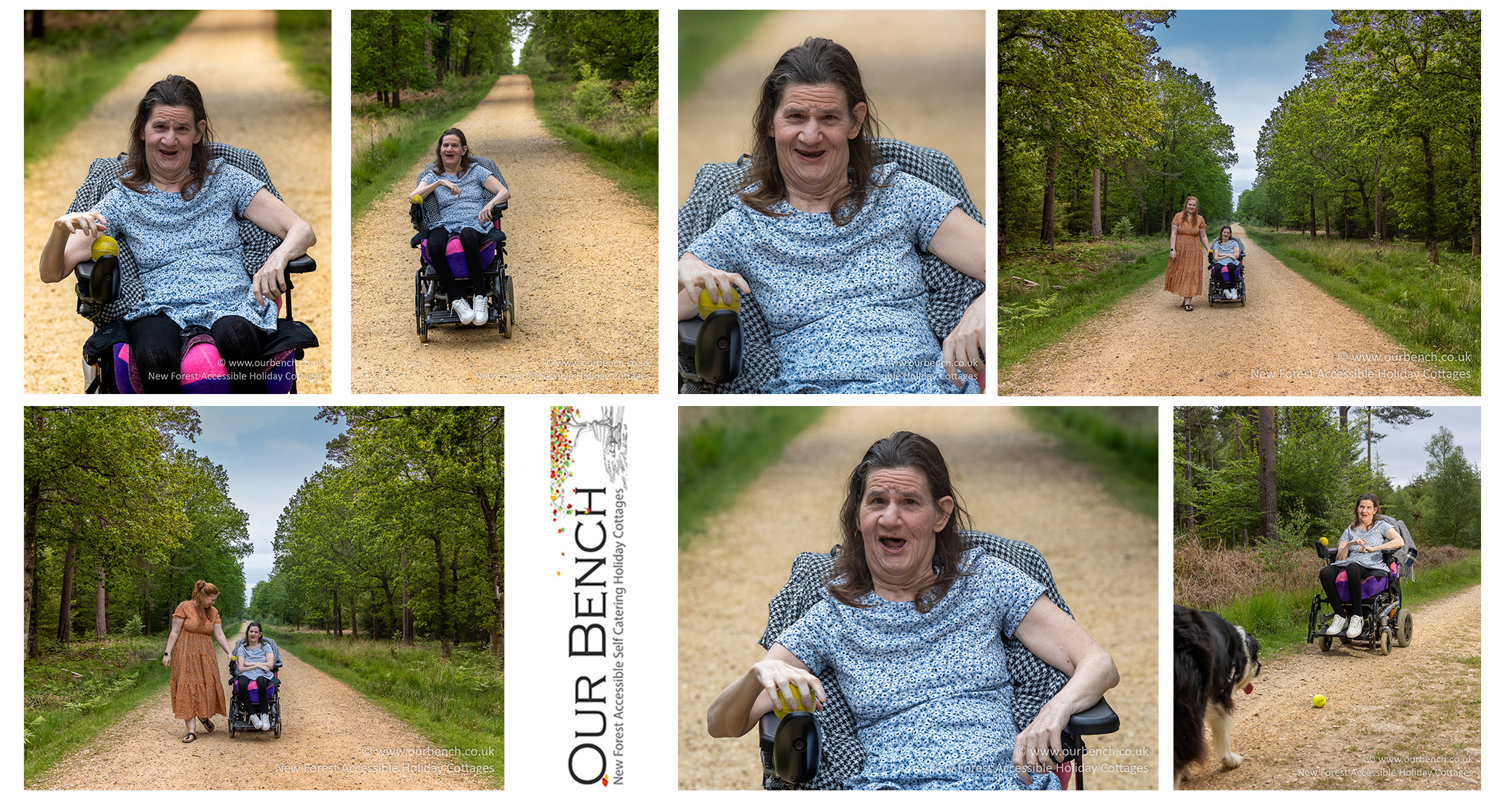 Samantha and Sparky
Samatha came to stay in 2020 and made great friends with our dog Sparky, for her 2021 holiday she wanted to have her photo taken in our nearby accessible photostudio with Sparky, she even brought along some tennis balls with her on holiday so that she had something to play with. You can see some highlights of the shoot here -https://www.renoufdesign.co.uk/Photos/Photo-Galleries/Samantha - at the end of the holiday Samantha told me that we had made her mum cry, when sharing the photos with the family- but they were happy tears, they left for home with Samantha declaring she had had the best holiday and booking to return later in the year.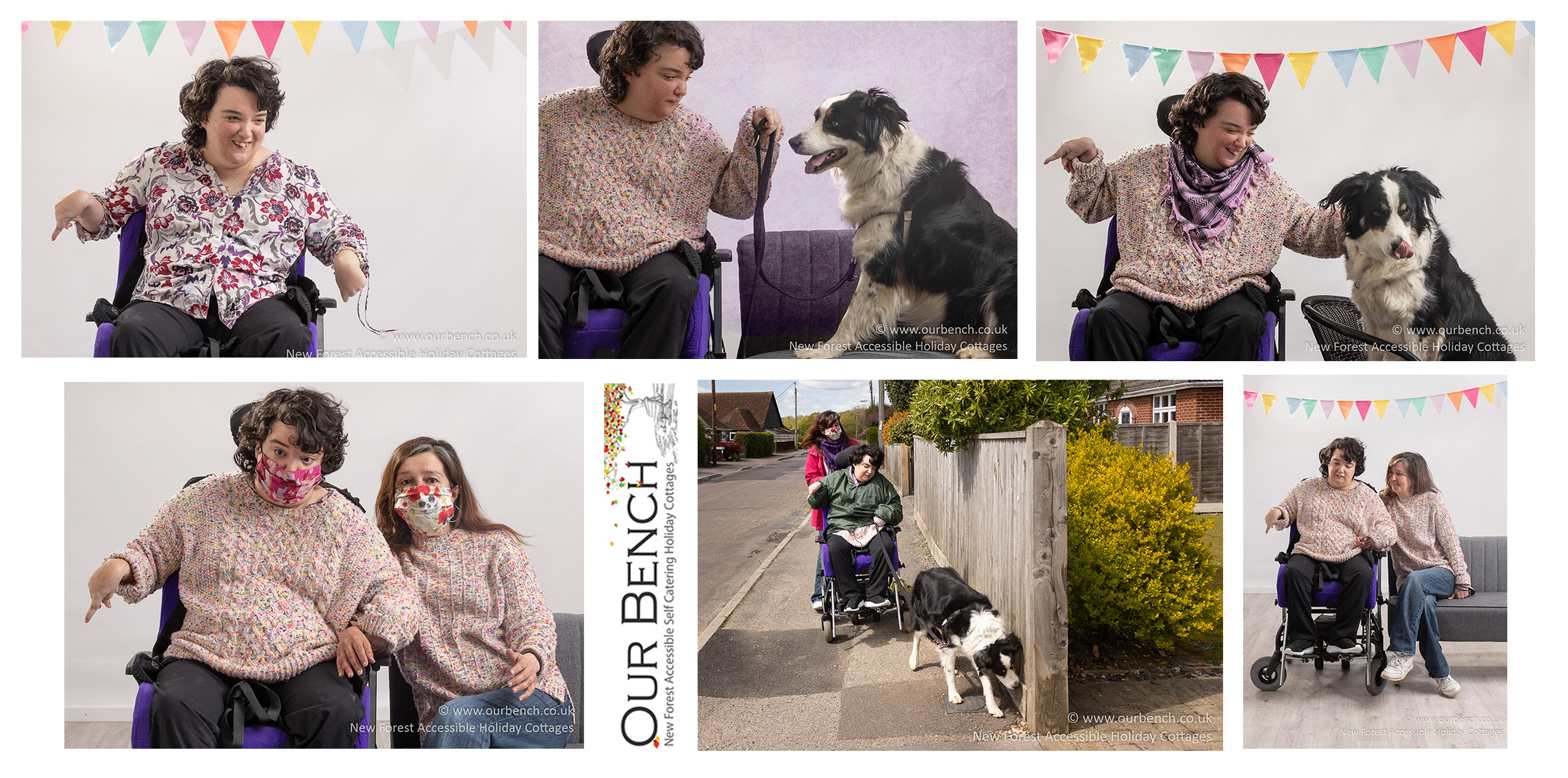 Sam, Mum and Dad
In 2020 they came back to stay in August, the weather was not suitable for an outdoor shoot, so we visited the neighbouring accessible photo-studio to take some photos of Sam and his family a year on. You can see highlights from this shoot here: https://www.renoufdesign.co.uk/Photos/Photo-Galleries/Sam8 - they came back for another visit in 2021, and this time we were able to shoot ourside and we arranged to include Sam's grandparents too. Family Accessible Photos 2021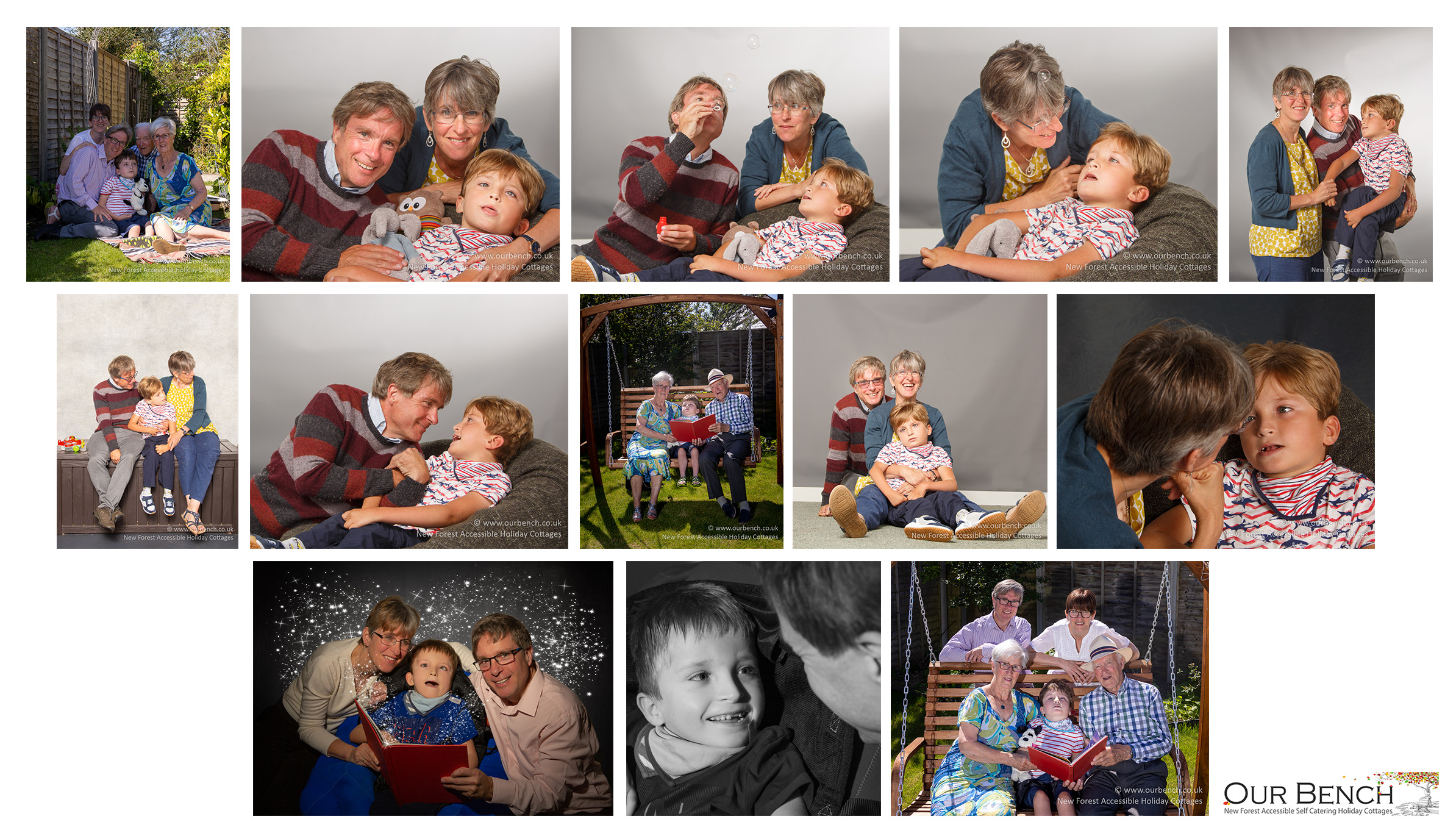 Irene and John
Irene and John booked a photoshoot for the Monday of their New Forest Holiday, and had discussed the idea of visiting one Helen's favorite areas of the New Forest - it had rained overnight but a quick check in the morning via text and they were happy to brave the showers and head out to the New Forest - Helen jumped in their car, and gave them directions to the Tall Tree Trail and Ornamental Drive near Brockenhurst and then took them both on a 1.2km power chair friendly walk, telling them a little about the trees in the area, the importance of the forest during the war and took some photos of them both.
After returning home Irene sent us this email: "Oh what wonderful photos . So many and so hard to choose from... They are all so wonderful. Such happy memories to treasure...Thanks again for a fantastic day in the forest!"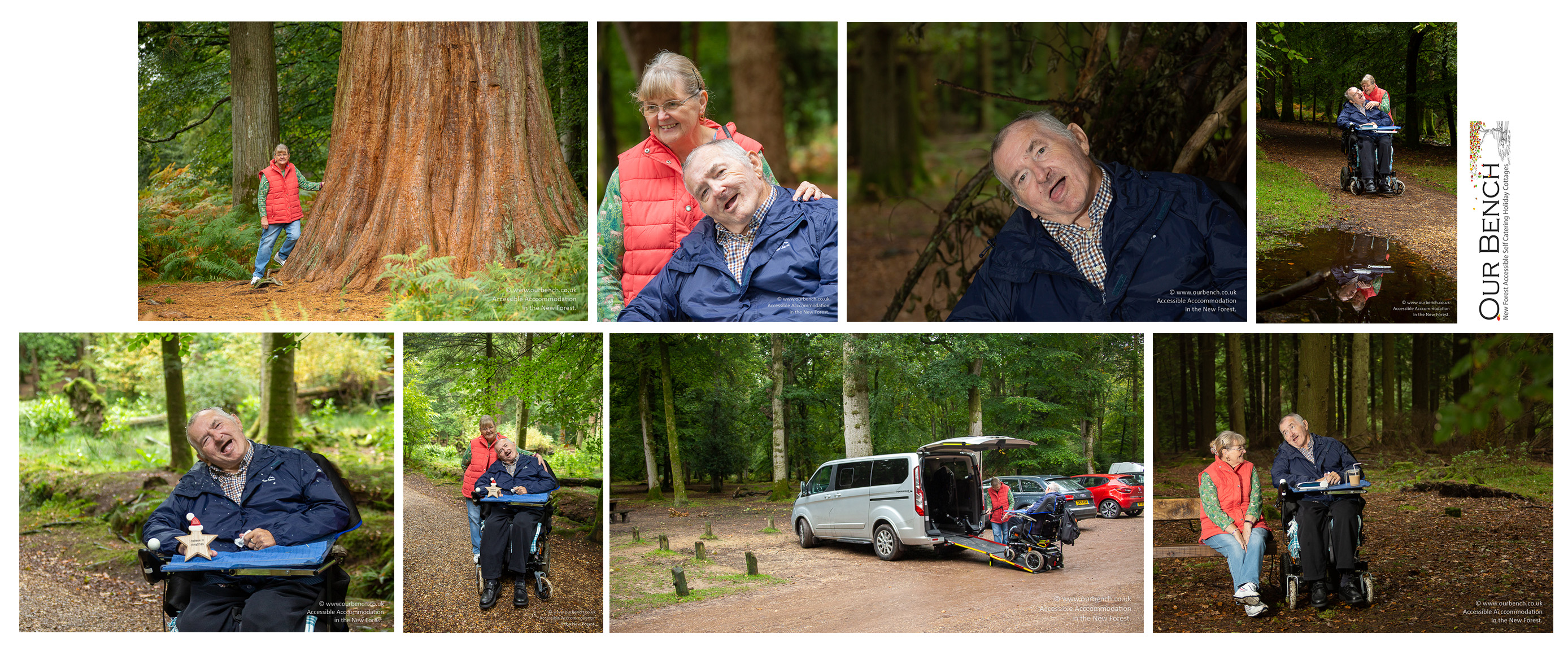 Lois and David
Lois and David stayed for a holiday in Little Bench, it was the first time they had professional photos taken of them together since David was diagnosed with his condition and we made the most of a short spell of sunshine and captured a selection of images in the front garden of Little Bench and Garden Bench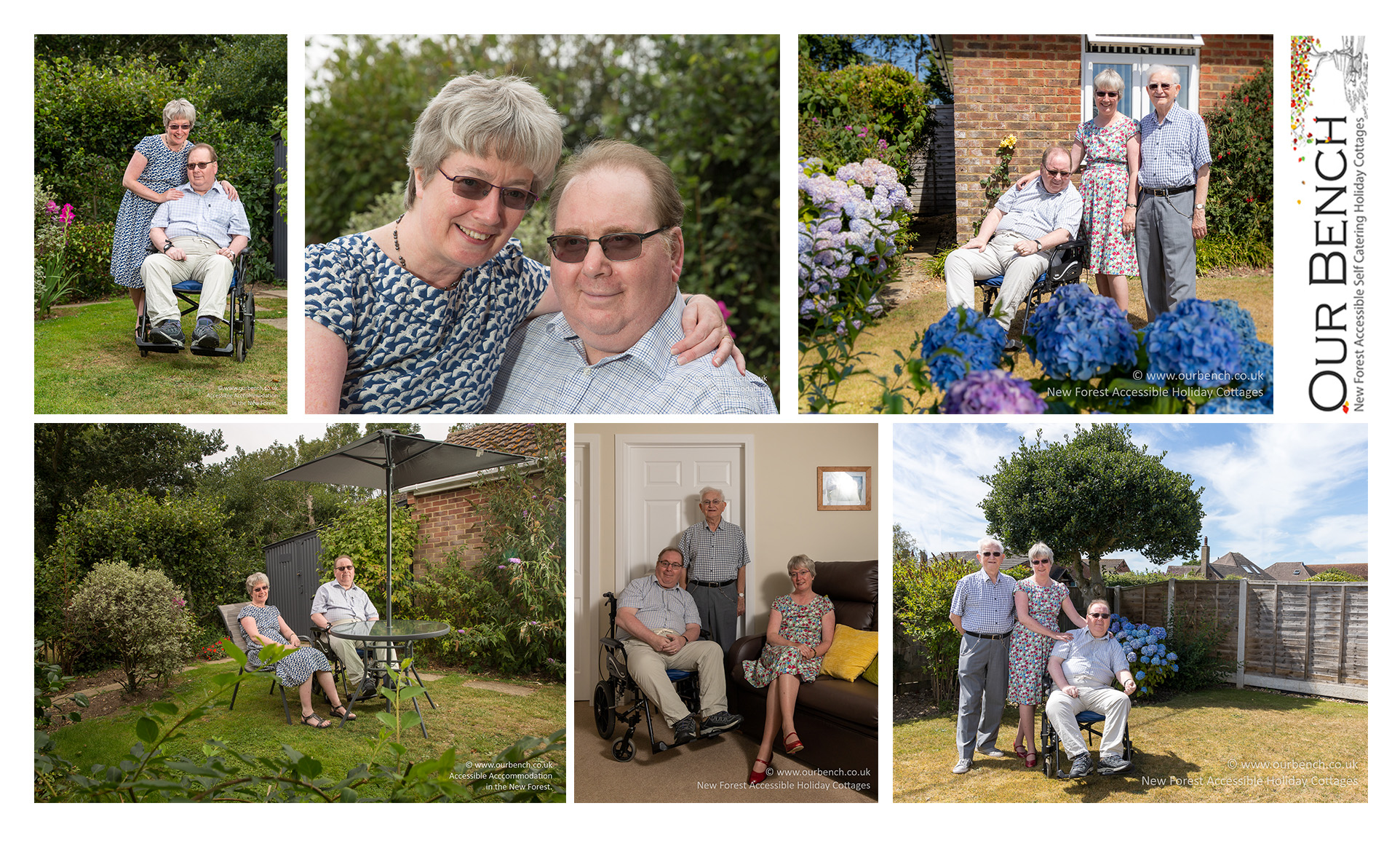 Photoshoots in the New Forest in a wheelchair friendly studio or on location are also available direct with Helen - Book your holiday below!