Reviews
Reviews and quotes from Guests whom have stayed at Our Bench Self Catering Holiday Cottages
"This accommodation caters for the Severely Disabled person who is confined to a Wheelchair 24hours , 7 days a week!! The accommodation has Profile Beds, Ceiling Hoists, Wheel-in-Shower Chair and Wet Room. It has everything that a disabled person would want including a changing places Wet Room..." Read more - Euan's Guide - Denise - Bench Cottage


"

Both my husband Jeff and I were very impressed with Garden Bench and the way things had been really thought out for disabled people. It is always the most personal things, like shower, toilet access that can make or break a holiday for me. In this case, both were excellent. We will definitely consider returning.

" Maureen, Jeff and Dora - Garden Bench


"

It's the best holiday accommodation we have ever stayed in. Look forward to September to go back for two weeks x

" Irene Morris - Bench Cottage



"A lovely location, a 5 min drive in one direction and you are amongst the free roaming animals of the New Forest, 5 mins in the other and you are on the coast overlooking the needles on the IoW.
The accommodation was more than adequate for a wheelchair user, everything is on one level with ample room indoors and to park in the driveway and get a wheelchair alongside the car. We had a warm welcome when we arrived. Highly recommended and I would definitely book again if visiting the area" Andy Booth stayed in Garden Bench.

"This was a real home away from home. All the equipment we have at home was there as arranged which made things very easy. The wet room was brilliant. The weather was great and we made good use of the garden and conservatory. The owners popped round on the first day to check we had everything we wanted and answered any questions we had which was a nice touch. Good location. Would definitely stay again" Euan's Guide - stayed in Garden Bench


"Having just arrived home we wanted to thank you both for allowing us the privilege of staying in Little Bench. Gilly and I have stayed in many accessible holiday establishments over the years but never have we stayed anywhere that's perfect for our needs. Until now. Little Bench is everything we could have wished for. Spacious, very well equipped, beautifully decorated, spotlessly clean and perfectly located to make the most of what the area has to offer. We've left a review on Euans Guide saying the same. Rest assured, we'll definitely be back. Thanks again for everything you've done to make our stay in Little Bench so very enjoyable." by email.


"Great holiday cottage, has got lots of eqiupment for disabled. Our daughter found it easily accessible with electric riser beds and wheel in shower chair. The area is nice and quiet and Lymington is only a short stroll away. Plenty to see and do in the area and a few nice flat walk at Milford on sea. The Ship on lymington quay is an accesible pub with nice food. Overall we really enjoyed staying here and would highly recommend." Read more on Euan's Guide


"This bungalow is really fantastic, all we needed was there and we had lots of space. I can't recommend enough! And such a lovely place - we had the sea, city and history in Winchester and of course New Forest with horses, horses, horses..." Stayed in Garden Bench - read more here on Euan's Guide:


"When they state accessible they really mean it here! We had no problems at all. The equipment we had asked for was all ready there. There was scones and jam waiting. The location is excellent. We walked down to the town centre twice. Lovely comfortable beds and a good wet room. Will definitely recommend them." Stayed in Little Bench - read more on Euan's Guide.


"A lovely, well thought out bungalow. Lovely spot and masses to do nearby. It was refreshing to visit somewhere which had hoists etc, but was also stylishly decorated. Too many places just concentrate on the equipment and it feels institutional. Not so here. Highly recommend" Stayed in Bench Cottage - read more on Euan's Guide.


"At last accessible accommodation that understands the needs of disabled people. Great that you can hire (free of charge) many of the accessories (walkers, raisers etc.) needed, so more room in the car for the journey. Lovely and clean and in a great location." - Bench Cottage - Read more on Euan's Guide.


"Spent #Accessday out with some of the co-owners of the accessible holiday cottages in Lymington enjoying a delightful walk along the sea wall, I did a 6 miles circular tour of the coast, market and quayside in the Spring sunshine in my power chair, enjoying the wonderful solent and New Forest" Found on Euan's Guide.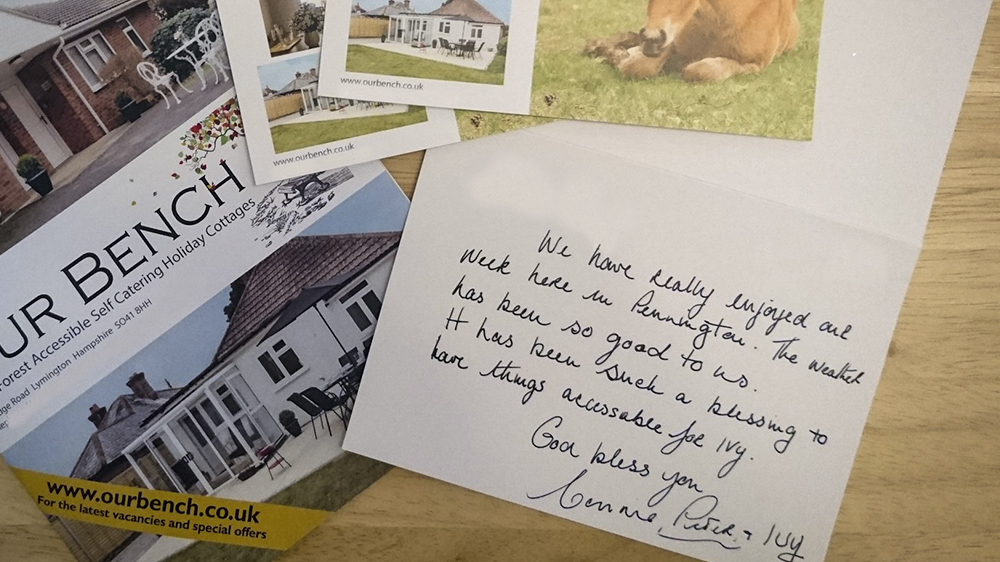 Personalised Thank you note
"Another lovely weeks stay at garden bench, as always totally comfortable for Paul and so clean and tidy. See you again at Christmas"


"Lovely Accessible Accommodation in the New Forest, ceiling hoists and profiling beds are great!


"The bungalow is fanatastic. all we needed was there and enough space. We had a lovely time and will definitely be back."


"A well thought out bungalow which manages to be accessible and attractive. For once, it didn't disappoint as so many 'disabled friendly ' places do. Highly recommend."


"Had a lovely long weekend - facilities were excellent - warm cosy cottage will definitely book again"


"Lovely walks with wheelchair user and our dog. Especially the Lymington to Keyhaven walks with the fabulous birdwatching. Also Highcliffe On Sea Though the going back uphill to carpark was quite challenging. First holiday accomodation with ceiling track and hoist!!!!!!"
We have also discovered some guests have kindly left us a review on Google.
"Lovely location - amazing and well equipped! Very accessible and suitable for my husband's disabilities. The ceiling host and profiling bed, made the stay just perfect for us all. Highly recommended."


We have been awarded a 5 star rating!
We have only recently began to collect our reviews together - we choose not to collect them on our web site in the past, as we feel that reviews can be directed by the host and not give you a full representation of the accommodation - we in particular like the Euan's Guide as it a Review led site - by disabled people for disabled people and helps guests with the reassurance they need to an amazing holiday or experience.