Reviews
Reviews and quotes from Guests whom have stayed at Our Bench Self Catering Holiday Cottages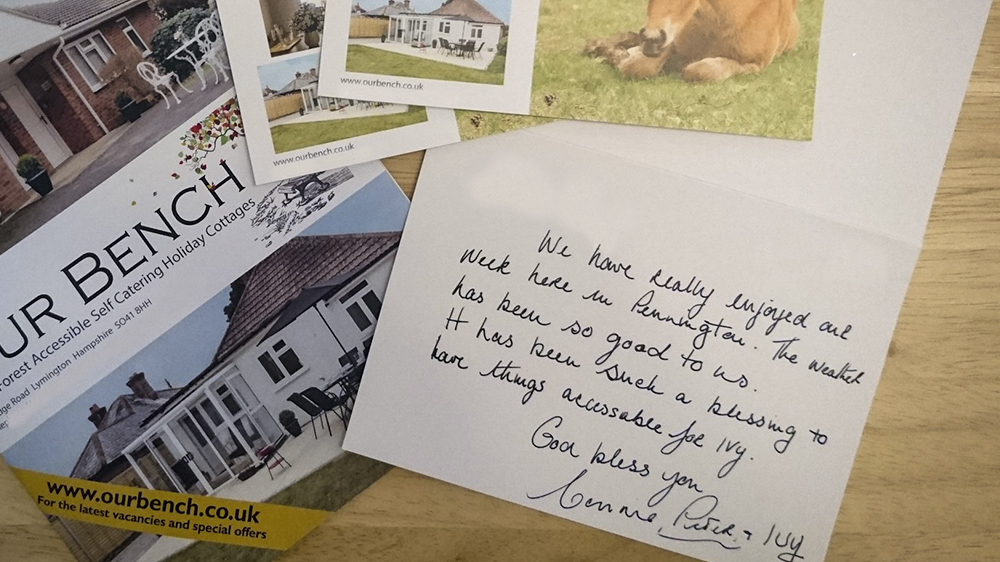 Personalised Thank you note
"Another lovely weeks stay at garden bench, as always totally comfortable for Paul and so clean and tidy. See you again at Christmas"


"Lovely Accessible Accommodation in the New Forest, ceiling hoists and profiling beds are great!


"The bungalow is fanatastic. all we needed was there and enough space. We had a lovely time and will definitely be back."


"A well thought out bungalow which manages to be accessible and attractive. For once, it didn't disappoint as so many 'disabled friendly ' places do. Highly recommend."


"Had a lovely long weekend - facilities were excellent - warm cosy cottage will definitely book again"


"Lovely walks with wheelchair user and our dog. Especially the Lymington to Keyhaven walks with the fabulous birdwatching. Also Highcliffe On Sea Though the going back uphill to carpark was quite challenging. First holiday accomodation with ceiling track and hoist!!!!!!"
We have also discovered some guests have kindly left us a review on Google.
"Lovely location - amazing and well equipped! Very accessible and suitable for my husband's disabilities. The ceiling host and profiling bed, made the stay just perfect for us all. Highly recommended."


We have been awarded a 5 star rating!
We have only recently began to collect our reviews together - we choose not to collect them on our web site in the past, as we feel that reviews can be directed by the host and not give you a full representation of the accommodation - we in particular like the Euan's Guide as it a Review led site - by disabled people for disabled people and helps guests with the reassurance they need to an amazing holiday or experience.