What is on in the New Forest?
We are often asked by guests what is the best time of year to come and explore the New Forest and stay in our accessible holiday cottages, and it is really difficult to suggest... as the forest and Lymington has something to offer all year round, including numerous events that happen annually in and around the New Forest and we have tried to list a few of them below, as you may want to plan your visit to include some of them, we will continue to add annual events to this page - and post reminders on our facebook page.
Our Favorite time of the year
As a photographer and someone whom has lived in the New Forest area since I was born, it is really hard for me to tell you what time of year is the best time to visit the forest and the coast - as there is so much to offer all year round and I try and explain why...
Winter - Lymington rarely gets snow or extreme weather, when we do the forest looks stunning but it normally only lasts a day or two and completely disappears - frosty mornings though are amazing - the ground is crisp and hard under foot, the spider webs glisten and sparkle in the winter sunshine, the sunsets and sunrises are at a sensible time. The animals where their winter coats and still graze the New Forest - but they are much easier to spot through the trees as the foliage dies back. To sit in a coastal car park and watch the sea crash upon the shore and enjoy a coffee from a flask or in one of the coffee shops, provides plenty of time to just reflect and enjoy the natural world around you. Then to pop into one of the many New Forest pubs and discover to your delight they have a wood fire burning - what's not to love! There are winter carnivals, stunning festive light displays and more to discover.
Spring - the forest begins to come alive, the yellow gorse is at its peak in the Spring and therefore the forest seems to be full of sunshine. As the leaves start to grow and the forest bracken uncurls there are so many different shades of green to discover. Exbury gardens opens for the summer season, the spring bulbs blossom and there are one of two areas of the New Forest filled with Bluebells that are a delight to discover, and as these die back the foxgloves appear. The forestry commission Rangers begin to feed the deer at Boldrewood and you never know when you are going to spot the first New Forest foal, baby donkey or fawn.
Summer - the heather is a fantastic purple towards the end of August, there are events nearly every weekend from county to village shows, free fireworks, lots of boats to watch on the Solent - the young foals and fawns skip around their parents. There are plenty of free parking in the forest, the coastal car parks get busier - but there is still plenty of quieter spots we can recommend, the perfect time for family picnics and BBQ in the New Forest - time to read a book under a shady tree and enjoy watching the horses paddle in a forest stream.
Autumn - it is fungi season, if you just stop and look at the ground in the forest there are lots of varieties of fungi to spot. The leaves on the trees slowly turn into their autumn canopy with a variety of shades of orange and as these fall to the forest floor they crunch under foot - now the time of year to enjoy Pannage when pigs roam the forest eating acorns to stop the ponies become ill, the squirrels collect their winter food stores and the New Forest stags have fully developed their antlers. Autumn is the most exciting time of year to watch our deer – that's when they mate, in order to do which they have to establish their hierarchies. The three largest species of deer (red, fallow and sika) all rut in the autumn, it is most intense soon after dawn.
So we would recommend visiting in every season!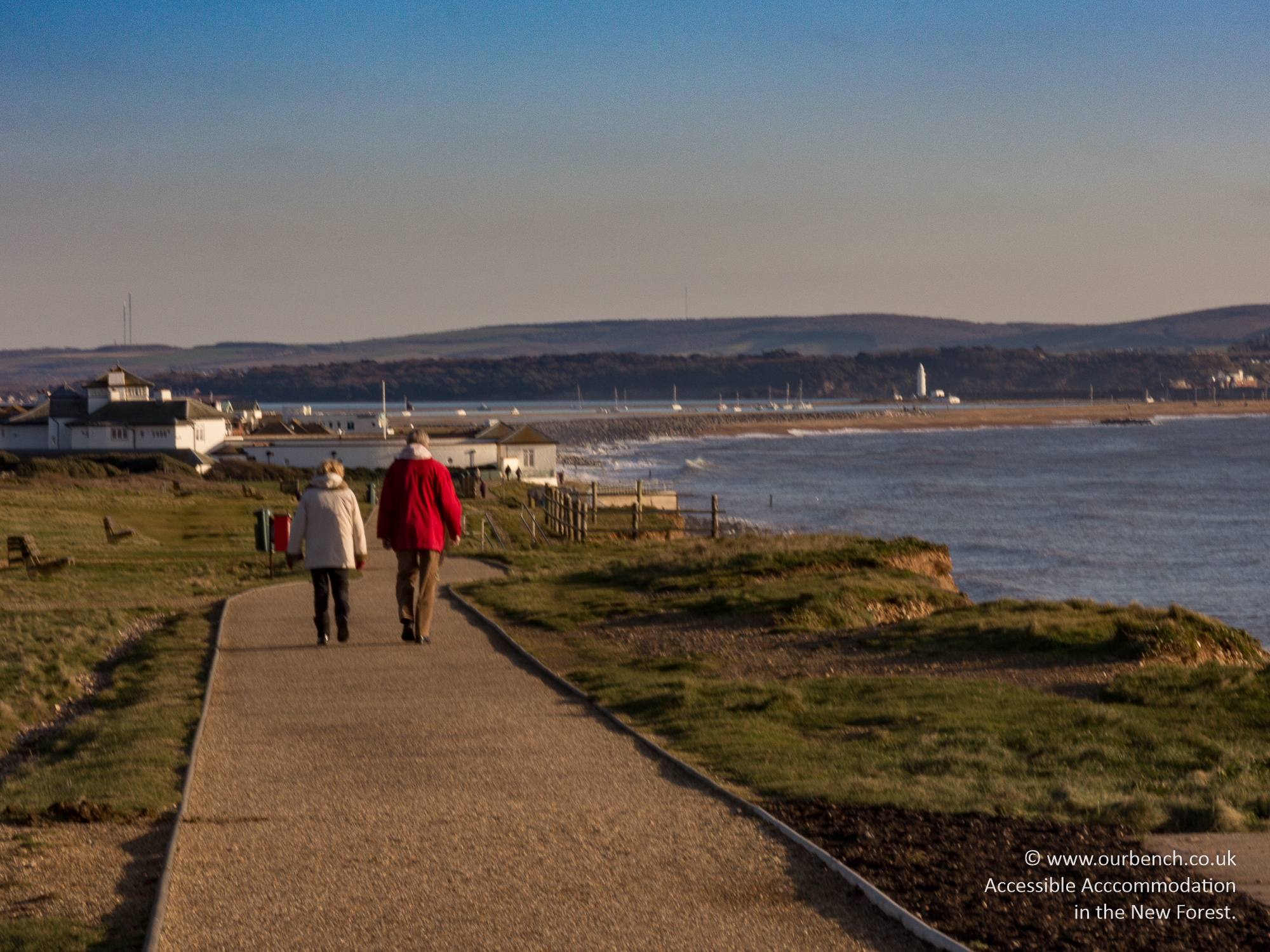 Coastal walk at Milford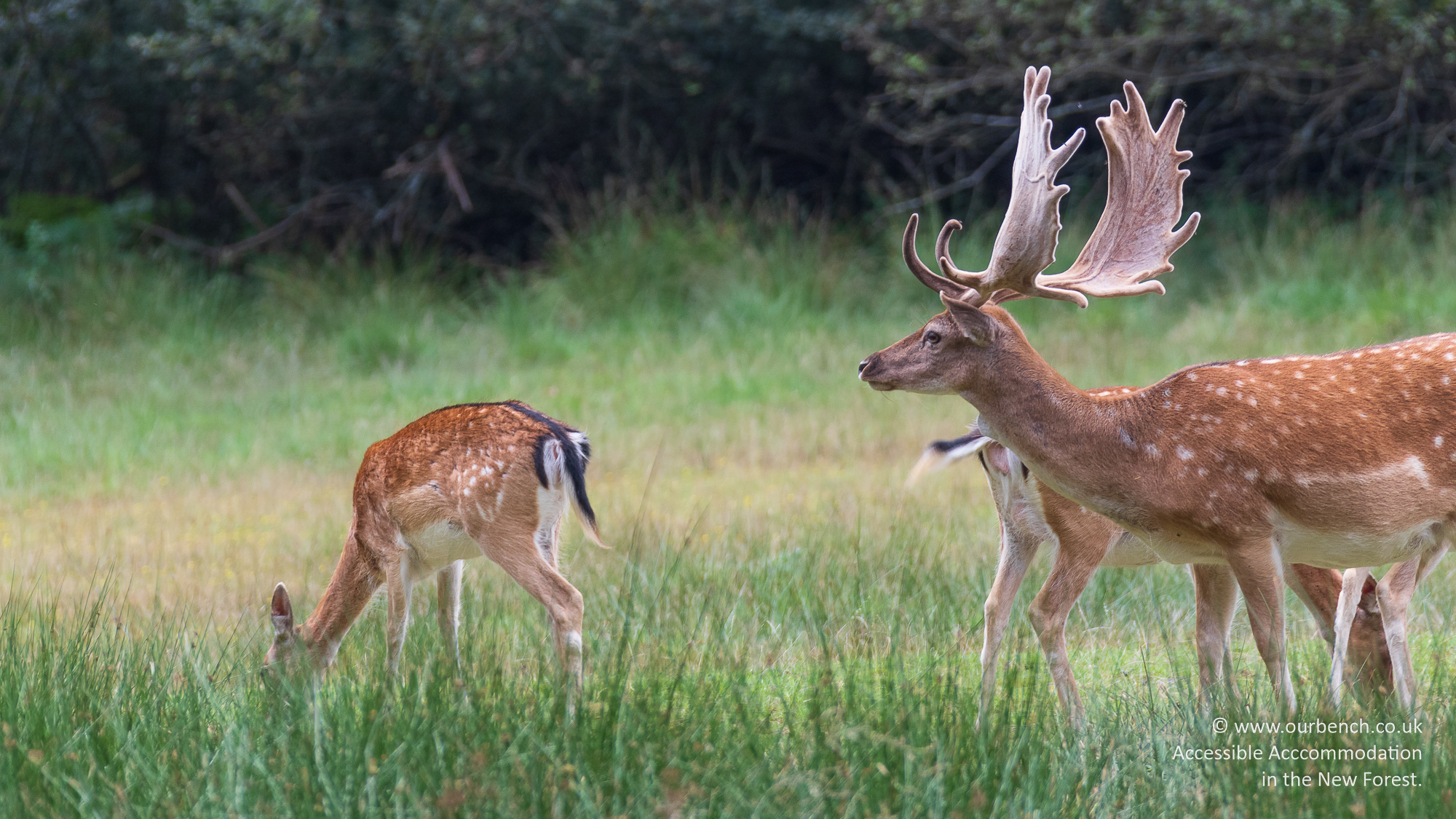 Deer in August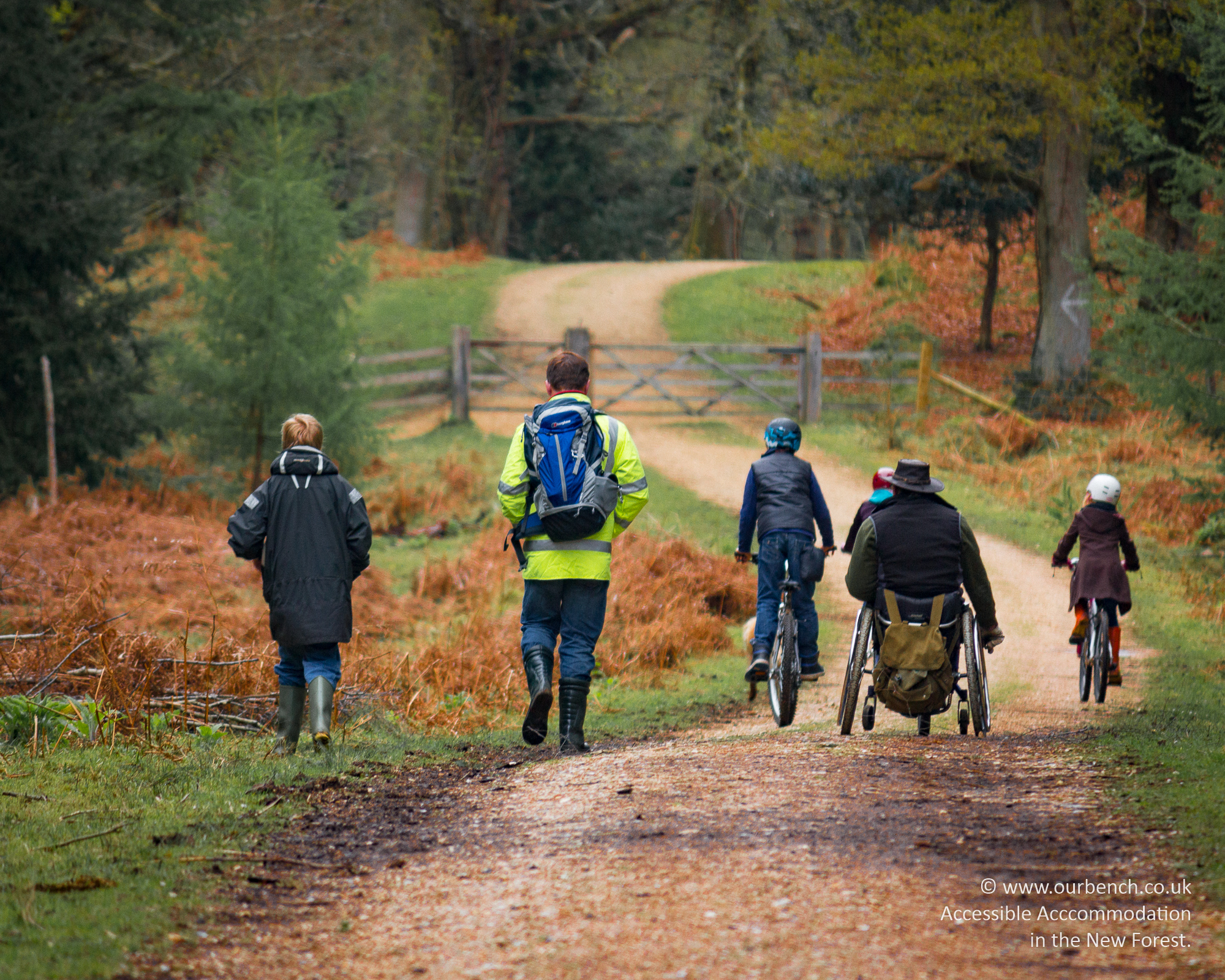 Autumn colours arriving
Annual Events in and around the New Forest!
We plan to add more annual events as we find them...
January
February

Festival of Light at West Quay Southampton, a stunning showcase of brand new immersive and interactive light displays on the Esplanade, in front of the Old City Walls. More details.

March

Exbury Gardens opens for the summer season and the first couple of weeks are amongst the best weeks to visit when the spring flowers are all in bloom. Exbury

April
May

May Fayre - traditional May Fair with dancing around the Maypole on the village green by local school children.
Broadlands Country Show - Main arena events, falconry and raptor displays and more - Broadlands Country Show
Mudeford Seafood festival, a family focused celebration of seafood, cooking, local libations, entertainment, demonstrations, artisans, local celebrities, musicians and the superb seaside location on the quayside. A free event for all to enjoy - Mudeford Sea Food Festival

June

New Forest Film Festival - a 9 day extravaganza around the New Forest run by Film:New Forest - Forest Film Festival
Highcliffe Food and Arts Festival - a fantastic 2 day festival at Highcliffe with some amazing chefs doing demonstrations of some tasty dishes - Highcliffe Food Festival

July
August

Lymington Spectacular and classic car show - a fantastic event run by Lymington Rotary - lots to see and do, from life music to vintage cars to enjoy. Lymington Spectacular
Lymington Seafood Festival - an amazing 2 days of free entertainment and lots of artisan food and drink down by Lymington River - Seafood Festival.
Portsmouth Kits Festival - an amazing weekend showcasing some fantastic kites on the sea front near Portsmouth - Kite Festival.
Friday fireworks - every Friday during August there is a free fireworks display at the end of Bournemouth Pier, fireworks are around 10pm.
Ellingham Show -began in 1947 –  since when it has grown to include many exciting main ring attractions, animals galore, plenty of food – and shopping opportunities too, run entirely by volunteers; and we aim to give over £20,000 every year to local charities Ellingham Show
Burley Festival - surrounded by beautiful woodland scenery, Burley Festival brings together high quality local producers for a weekend of artisan food, exciting drinks and artistic creations - Burley Festival

Bournemouth Airshow - the UK's biggest air festival takes place for 4 days between Bournemouth and Boscombe Piers - Bournemouth AirShow
Beer and Music Festival at 2 local pubs within walking distance of the cottages - the Musketeer and the White Hart.

September

Highcliffe Castle Swing unlimited and vintage cars - an amazing free event on the castle lawns - enjoy seeing some classic cars and then sit back and enjoy the music. Highcliffe Castle
Romsey Show - where town and country meet - a one day show with lots of opportunities to discover more about the countryside and enjoy show ring events. - Romsey Show
Ringwood Carnival - festival fun for the whole family with two street processions one of which is illuminated - Ringwood Carnival

October

New Forest Cider Annual Steam Pressing weekend - a chance to see cider making as it was done in days gone by. We shall be demonstrating the art of cider making the old fashioned way with a variety of vintage presses. New Forest Cider
New Forest Walking Festival - a 3 week walking festival with lots of guided walks, including scooter and wheelchair friendly walks run by a number of guides to help you discover more about the New Forest - Walking Festival.
Beaulieu Fireworks - one of the largest displays in the south held at Beaulieu Motor Museum every year - Beaulieu Fireworks

November

Christmas Tree Wonderland - Bournemouth Free Christmas festive trail opens in November and continues through out December into the New Forest. Wonderful in the early evening - Christmas Tree Wonderland.

December

New Forest Christmas Fair - An annual 2 day event of Christmas Crafts and present ideas a lot of which are homemade within the New Forest area. New Forest Christmas Fair
Victorian Christmas Festival at Portsmouth Dockyard - Travel back in time to a bygone era, where classic characters welcome you to a world of festive cheer, as you enjoy one of the south's finest Christmas festivals - Christmas Festival
Santa Dash - see Lymington's high street fill with Santas as they prepare for the annual Santa Dash in aid of the local hospice. Santa's Dash
If you host an annual event in the New Forest area or that is within an easy drive and is accessible then please send us details to: enquiries@ourbench.co.uk - thank you!