A preplanned Accessible Holiday in the New Forest
A week Or Two in the New Forest
One of our guest's challenged us to plan a week's holiday in the New Forest... we honestly told them you need more than a week here, there is so much to see and do, but we thought we would start by sharing with you some of our favorite locations, and the kind of activities we think are great to enjoy. We know everyone is different and not all ideas will be accessible to everyone - as we all have different needs, but if we were guiding you round the forest for a few days these are the spots which we think you should include on your visit. Not every place has a postcode - so for our ease we are going to share the locations through a fantastic app called What3Words - you can download it on Apple and Android software and use it to navigate to the points we have highlighted. It is well worth having this on your phone anyway - as most emergency services can locate you with this app in case you ever have a problem.
A treat on Friday
If you arrive to the cottage early and we are not ready for you, then we would recommend a visit to Rosie Lea - head round to their side entrance for their wheelchair friendly entrance and accessible loo - open till 9pm - you could enjoy a cup of tear or dinner in this country style location with views over open fields and a great sensory play area for children, other options Shallowmead Nursery - this garden centre is home to Mabel's - a fantastic independent coffee shop - if the weather is lovely they have a landscaped courtyard garden which you are welcome to enjoy, and it is a great way to start your holiday. They also do a great breakfast... or even Daisy Tea Garden which also has a neighbouring farm shop and is a small local indepenedent.
Or why not arrange dinner on arrival - or for one evening later in the week. Currently 7th Wave Events will come and cook a 3 course meal at the cottages and do all the clearing up... they are available 7 nights a week - but are limited to one event a night - so advance booking is essential.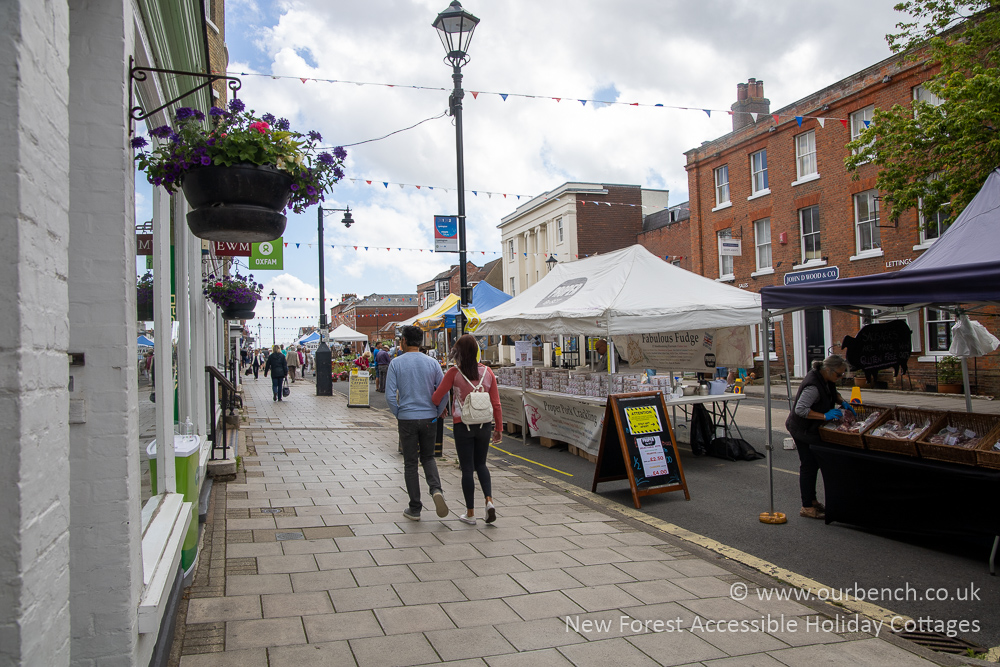 Market Day in Lymington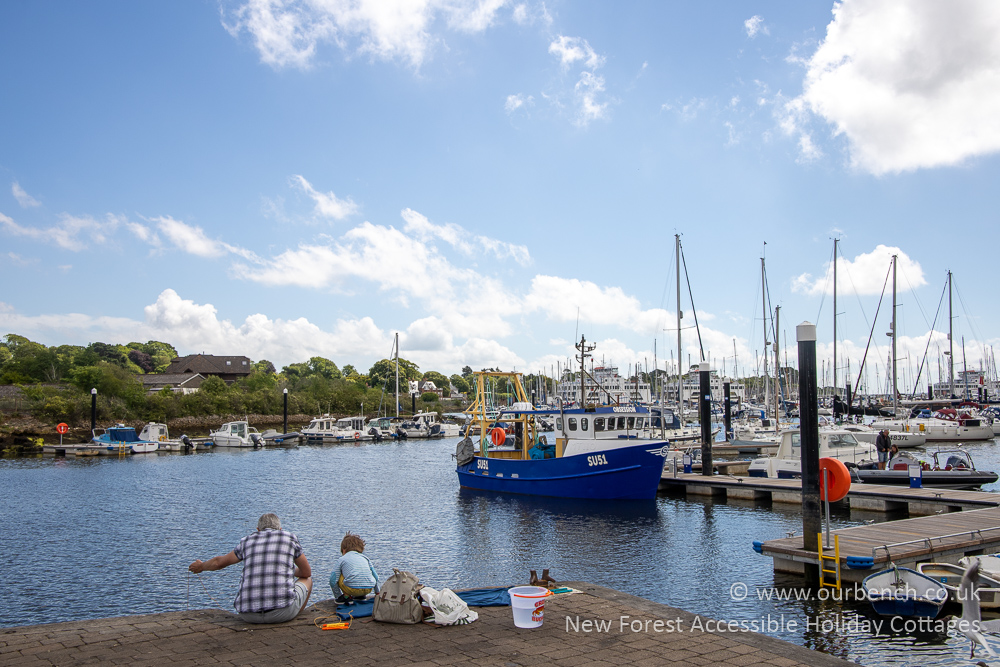 Lymington Quay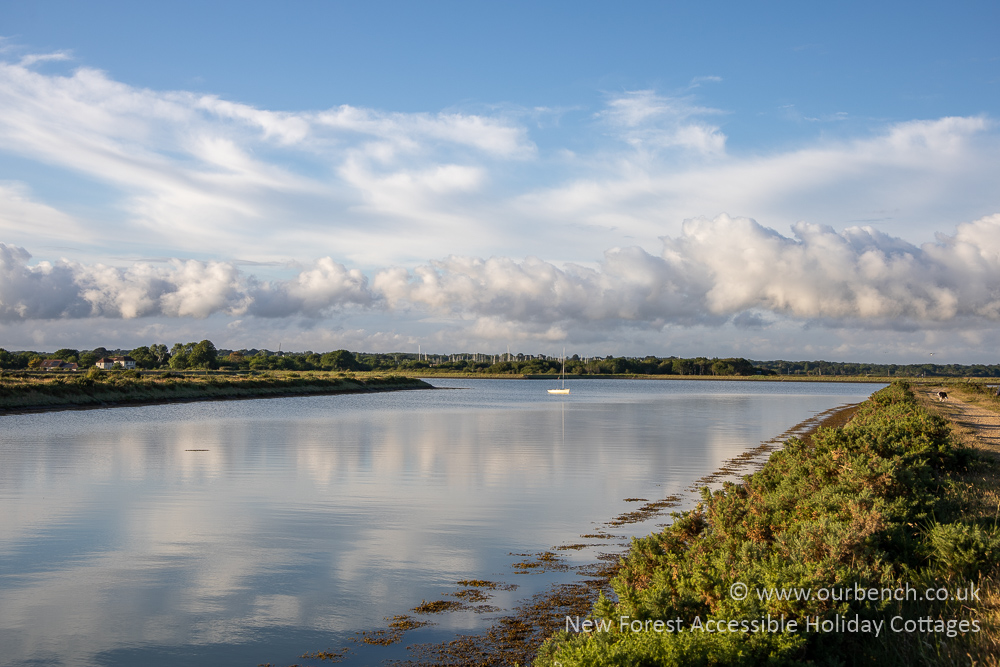 Lymington to Keyhaven Nature Reserve
Day Two - Beaulieu and Hatchet Pond
Beaulieu is home to the National Motor Museum and Palace House - it is a fantastic place to explore if you like old cars, Victorian History (the house) as well as gardens and a Abbey But Beaulieu offers so much more - a wonder around the village itself you can watch the ponies grazing by the Mill Pond looking over towards the Palace House, you can walk through the traditional village and sample Bealieu's delicious homemade chocolates, enjoy a lovely coffee from the coffee shop at the end of the high street on in the large traditional garden centre at the other end.
Just outside Beaulieu - is Buckler's Hard a maritime village steeped in history - and there is a lovely accessible walk from Beaulieu to the village and back - 2.5 miles each way. You can download a map here. Or you can drive to the village and park there.
Hatchet Pond is a lovely spot to finish the day, here you can park beside the pond enjoy a picnic with a view - and if you are luck enough to time it that there is an evening sunset - it is the perfect way to end a day. Very popular with photographers.
Day Three (Monday) - Christchurch
Christchurch is just 11 miles from our holiday cottages - Christchurch is a town and civil parish in Dorset on the south coast of England. The town covers an area of 19.5 square miles, adjoins Bournemouth to the west, with the New Forest to the east. It is a delight to explore with its riverside walks and ancient monuments, famous Priory and Quay popular with visitors, swans and various events throughout the year normally - Take some bread to feed the ducks would be out top tip. Lots of spots to enjoy a coffee or meal too, and families can hire a small boat to motor independently up the river!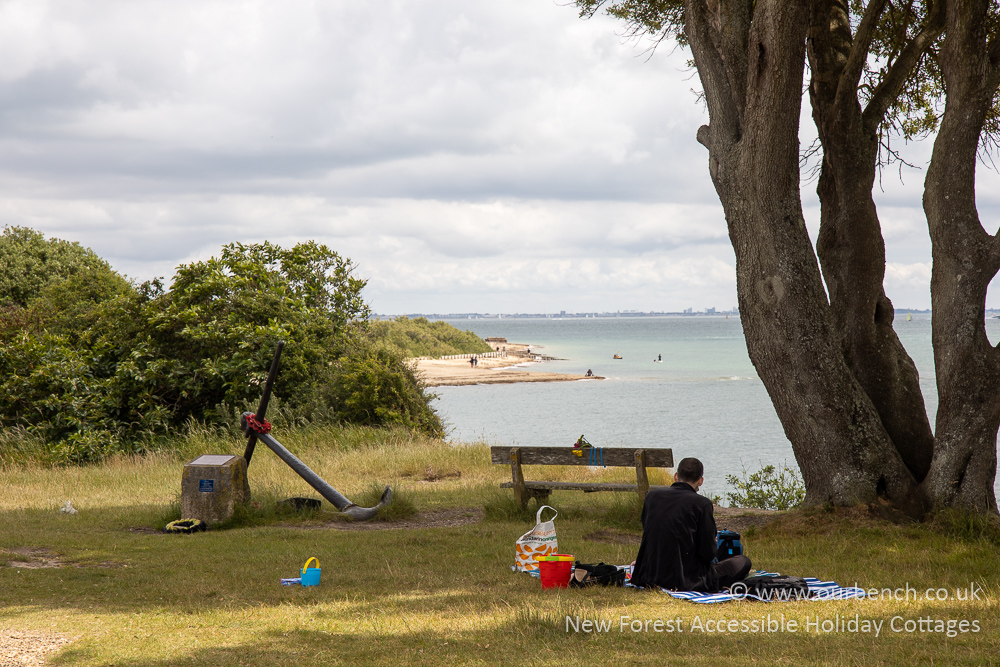 Lepe Country Park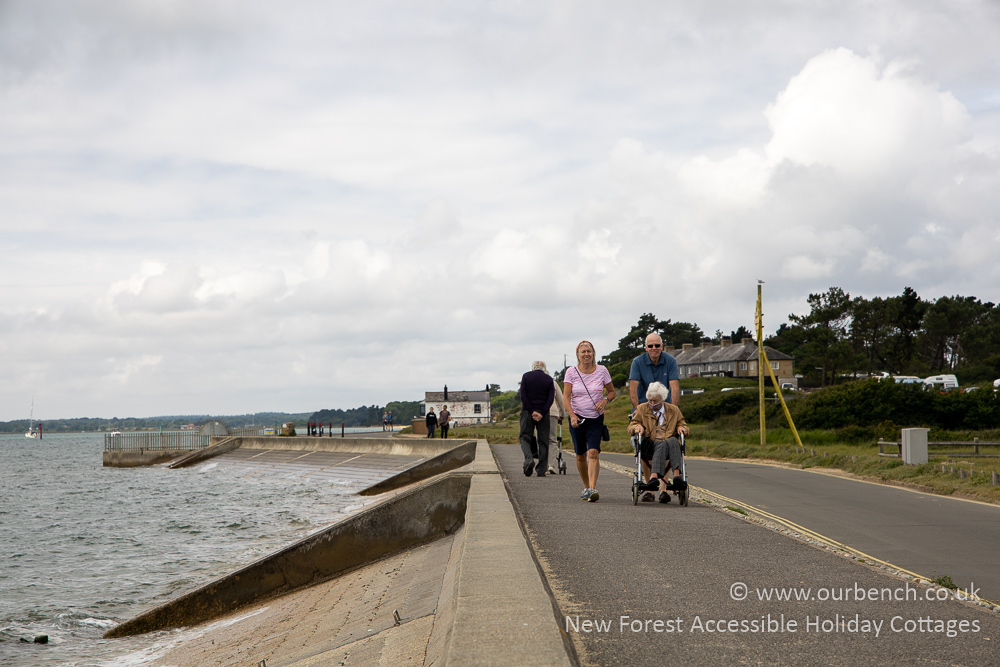 Walking at Lepe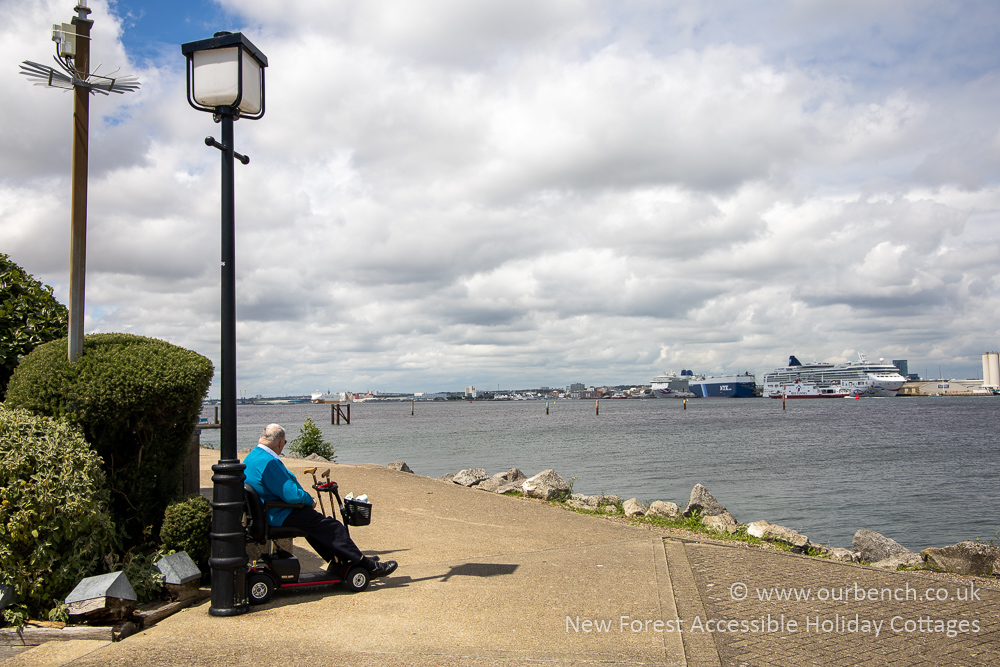 Views From Hythe
Day Four - Exbury & Lepe
Drive on from Beaulieu to Exbury Gardens - this is a wonderful garden with acres to explore. There are tarmac paths and trails, a steam railway and a lovely coffee venue just outside. The gardens are known for their spectacular collection of woodland, herbaceous, contemporary, formal and wildflower gardens. There is lots to do for everyone -whether you are seeking out a quiet space, of want to enjoy the gardens with a ride on a steam train, or hire a tramper for part of the day.
Drive onto Lepe Country Park - and here you can park directly on the beach and watch the ships go in and out to Southampton Water - there is a changing places facilities along with a beach wheelchair available. Hidden across the road is an amazing sensory garden and board walk trail for families - it is accessible although the terrain towards the end of the board walks maybe a little more challenging - the garden at the start is a delight with lots to explore the discover.
The cafe at Lepe is on stilts - with fantastic ramped access so you can sit and enjoy the watercraft out of the wind and whilst enjoying a coffee or your lunch! After a day enjoying the sea breeze why not stop off at Walhampton Arms on the way home - this is a great accessible local restaurant which had new owners move in at the beginning of the New Year and whom were really supportive of the local community recently.
Day Five - Calshot, Ashlett Creek and Hythe
If you wish to continue to discover new areas or just would like to drive further around the Waterside area we would also suggest taking in the following sights - Calshot Spit, where again you can park on the beach - there is a fantastic activities centre here with the chance to try all sorts of water and land based activities.
Ashlett Creek, a little further on is a tiny harbor that offers you the feeling that time has been forgotten.
Hythe which has a small high street with some independent shops, a lovely promenade along the waterfront - this is home to the worlds oldest electric train, which will transport you to the pier to the ferry which you can catch to Southampton. Hythe marina is also a lovely spot to enjoy and you can see across the water to some of the Superliners which regularly depart from Southampton. On various nights during the year you can enjoy the superliners fantastic firework displays.
Day Six - Avon Beach and Mudeford Quay
Avon Beach is our nearest accessible sandy beach - you can park on the sea front and there is a tarmac promenade which you can stroll along. The beach is popular with families and it is much quieter than nearby Bournemouth and Boscombe Beaches. You can walk along the tarmac path at the sea front to Mudeford Quay and the harbor - which is popular for crabbing, watching and enjoying a range of water-sports, and you can even catch the ferry across to Hengistbury Head - although we prefer the walk!
Day Seven - Hengistbury Head
Hengistbury Head is a scenic and historic headland near the town of Bournemouth on the south coast of England. It stands mid way between Poole harbor and Hurst spit and forms the main division between Poole and Christchurch Bays. There is a fantastic tarmac path from the car park and coffee shop all the way to the beach huts and the end and another coffee shop before you walk back again, via the coastal path of over the top of the headland - not all paths are wheelchair / pushchair friendly - so make sure you follow the right signs. The visitors centre near the coffee shop is a great place to start and they will be able to point you in the right direction.
Day Eight - A Day in
Sometimes all you want is a Day In - A day at you holiday cottage to just enjoy the birds singing in the garden, a chance to have a rest and recharge the batteries and a chance for the driver to put their feet up, but why not have a day in with a difference. This will need a little bit of advance planning... but it is the perfect day in treat.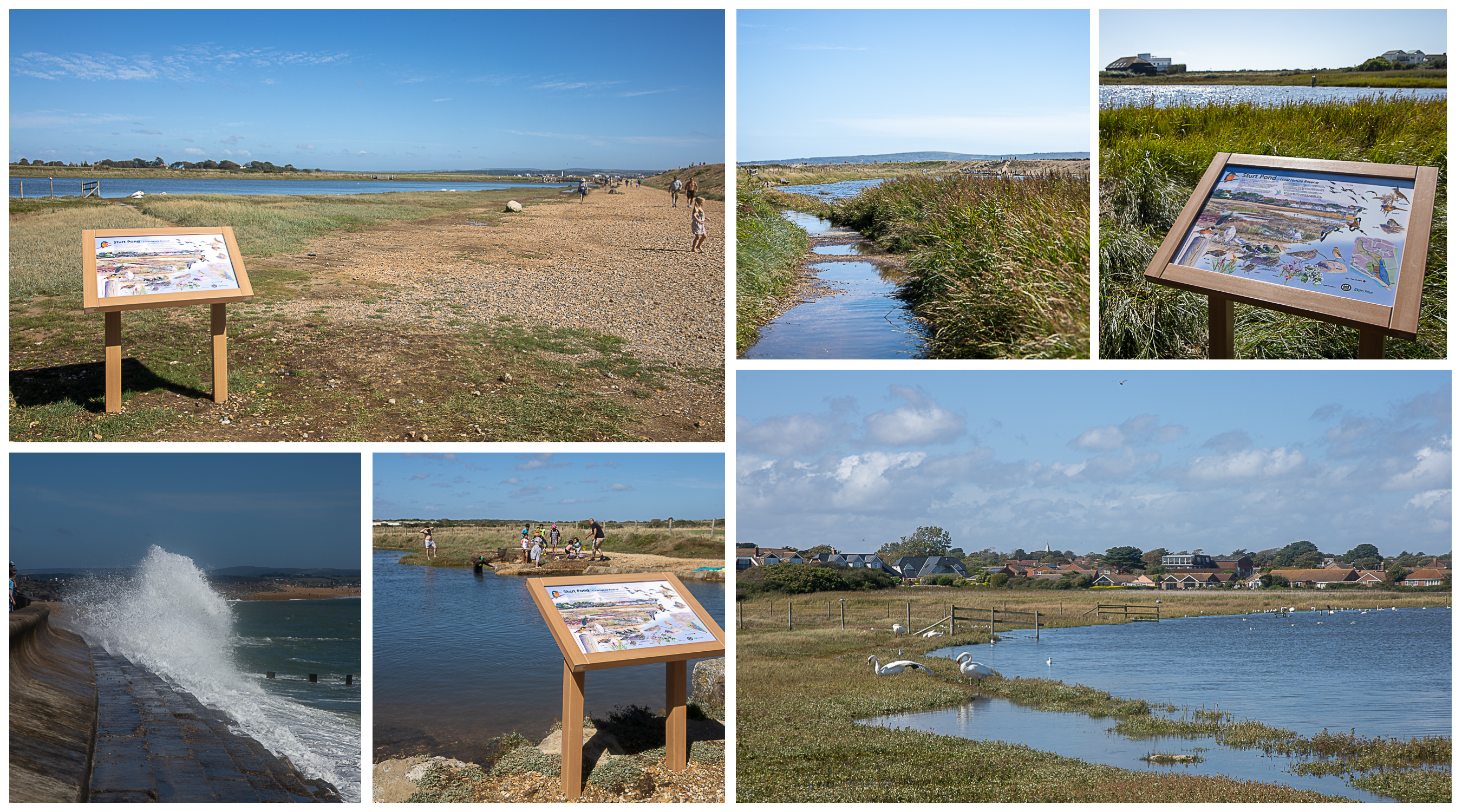 Day Nine - Milford on Sea and onto Barton on Sea
Milford on Sea is just six miles from our holiday cottages - you can park here on the beach front and watch the waves crash onto the shore. There is a tarmac promenade along the beach and sloped access to the roof of the beach huts where you can also sit and enjoy the view. The Lighthouse restaurant was due to open at the start of the season - we have not yet tried it, but it is open for takeaway meals. If you choose to wonder into Milford and discover the local shops - Timeless Fabrics is a great independent fabric shop who delivered their lock down local orders by bike to Lymington! Wonder past La Perle Restaurant as they are a small family running restaurant offering delivery to our cottages, and there are variety of takeaways and eateries around the village green.
Just round the headland at Milford is a tarmac cliff top walk - you use to be able to walk directly from Milford, but it is closed for cliff top repairs. In the village car park at Milford, you will find a Changing places toilet if required. There are stunning views over to the Isle of Wight and the Needles. Drive on and you reach Barton on Sea - here you can watch para-gliders on the cliff top, enjoy some home cooked delights at the Beachcomber cafe on head down to the sea via the sloped coastal path.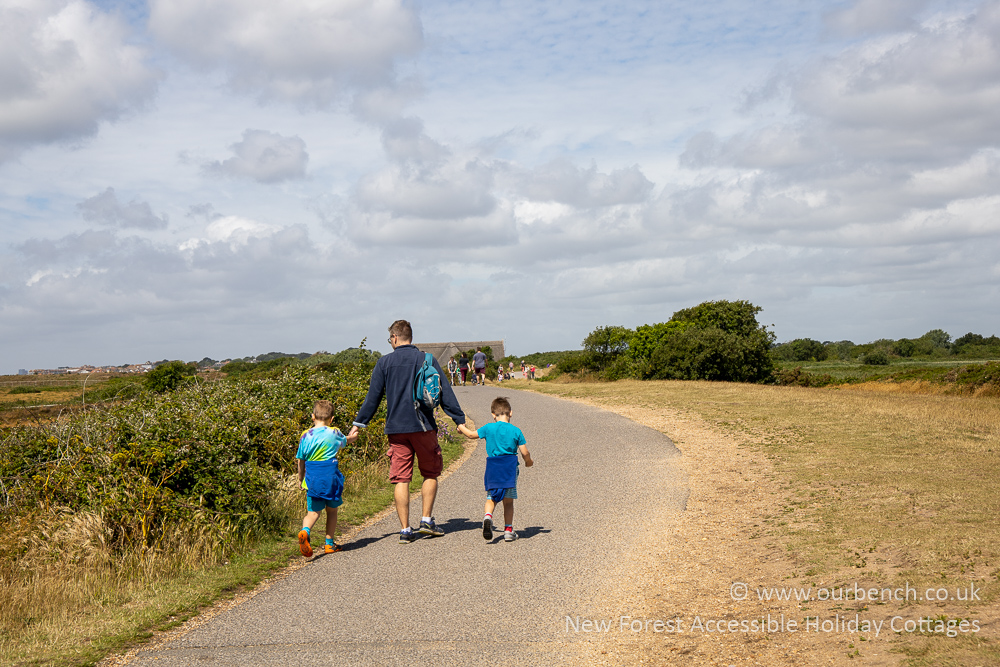 Heading off on an adventure at Hengistbury Head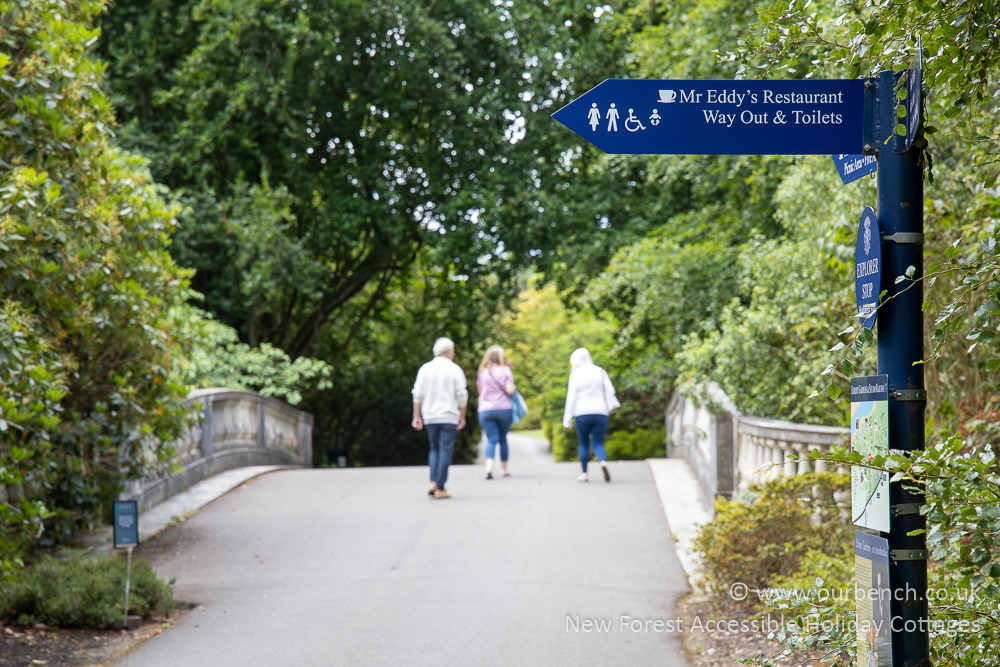 Exploring the gardens at Exbury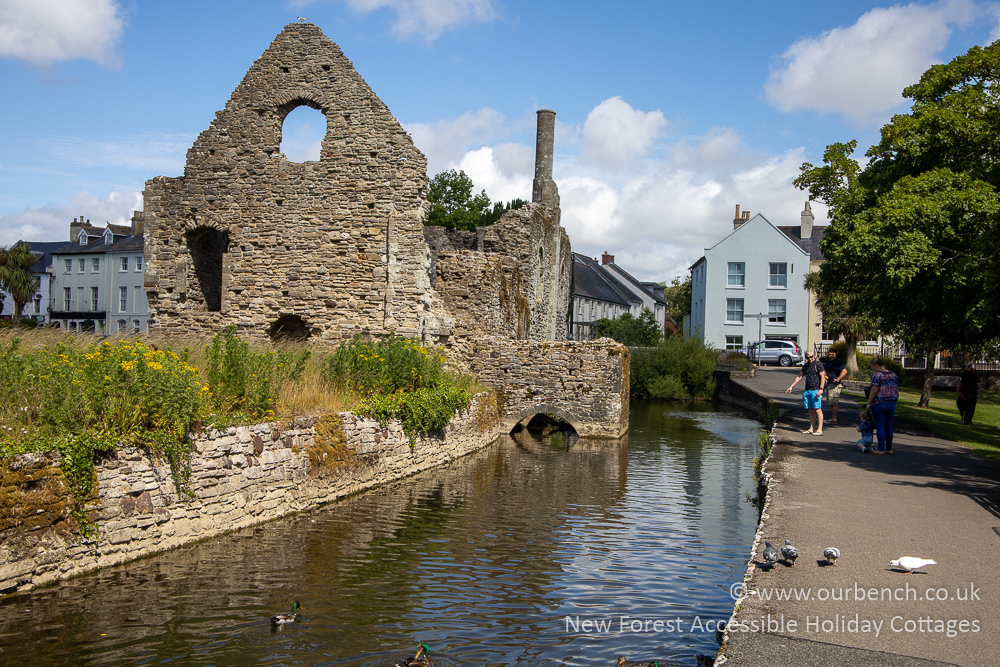 A walk beside the river Stour at Christchurch
Day Ten - Highcliffe
Spend the day in Highcliffe if you choose to turn off from the High Street you can discover Highcliffe's lovely beach - the Cliffhanger Cafe is on the cliff top - they hold a regular events program as well as providing teas, coffees, breakfast and lunch. For the cafe there is sloped access down to the sea and a variety of coastal paths to follow to create a lovely circular walk. If you head in the direction of the ZigZag Path you can climb back up the cliff and visit Highcliffe Castle - a Grade 1 listed house and a fantastic local wedding venue - when tours are available - it is a really interesting place to visit as they have only recently started renovating it. There is a lovely coffee shop in the grounds.
If you don't want to walk from the cliff top - there is parking at Highcliffe Castle itself, although the car park can fill quite quickly some days. Once you have explore the castle grounds then head on to Steam Point Nature Reserve and you can enjoy a step free walk through the open quiet woodland with breathtaking views out onto the Solent.
Day Eleven - Longslade Bottom and Wilvery
One of simple pleasures of enjoying the New Forest is taking the time to sit back and watch the wildlife and enjoy a walk or too. The route along to Longslade Bottom and the car parks along that road including Horseshoe Bottom view offer great views across the open forest - here you can sit in your car and just watch the world go by, or you could picnic on the forest lawn. If you choose to park at Longslade - you can access the old railway walk at the co-ordinates mentions - choosing either the left or right slope you can then do a lovely level there and back walk along the old railway line.
Then head out to Wilverly - Wilverly plain is popular for picnics, games and watching the ponies and cattle graze on a large expanse of New Forest lawn - or head into the enclosure behind you where you will find a lovely circular walk (way marked) through the woodland on wide gravel paths - it is enjoyable for all the family with a couple of hills, no traffic and areas where Den Building is encouraged at your own risk. There are toilets at Wilverly and a BBQ area - one of the few places in the forest where you can use the BBQ benches and enjoy your disposable BBQ if the New Forest is not at high fire risk.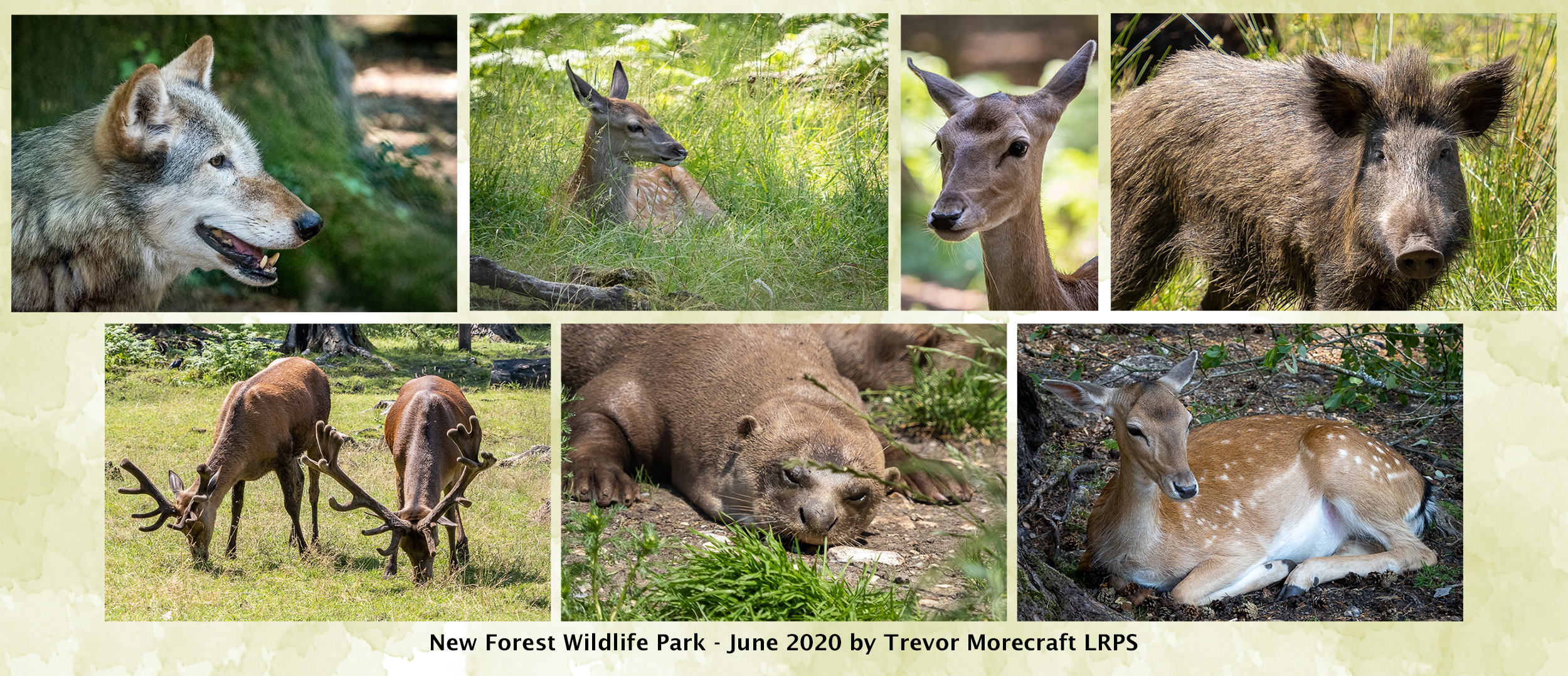 Day Twelve - Lyndhurst, New Forest Museum, Ashurst - Longdown & New Forest Wildlife Park
Lyndhurst is often congested with traffic, but it is full of unique character and surrounded by the National Park - it is a great place to sample New Forest produce, purchase something made of wood by local craft people and to find out more about the local area. Just off the main car park is the New Forest Museum where you can find out more the forest history and management.
Just outside Lyndhurst is Bolton's Bench - this is a local landmark and if you climb to the top of the hill where the Yew trees are you can see the top of Lyndhurst church which is at the other end of the High Street. Bolton's Bench is important to us, as this is where my Dad proposed to my mum, and they agreed to have a Bench of there own one day - and hence the holiday cottages are named "Our Bench" collectively and each has Bench in its name.
Heading onto Ashurst - there are two great attractions that are well worth a visit - Longdown activity farm - is ideal for children and has a changing places toilet, and New Forest Wildlife park - the one place in the fores where you can see Wild Boar and wolves - as well as deer, otters, foxes and badgers - it is a great opportunity to get close to some of the New Forest animals. My friend, Trevor popped in on the 23rd June and reported back that you did not need to book, there is a great one way system in place and he took these fantastic photos of the animals there.
Day Thirteen (Wednesday)- Burley, Ringwood & Liberty's
The village of Burley - this is a traditional New Forest village, where witches, smuggling and dragons all added to the character of the village. The car park is behind the Queen's Head pub and in the field beyond you can offer see New Forest Red Deer - so keep a look out. Burley has a great tea room -some local gifts shop and is home to New Forest Cider.
Travel on and on Wednesday's it is market day in Ringwood - it is a smaller market than Lymington, traditionally it was home to a large agricultural market and some of the building in Ringwood show the heritage of the area. Ringwood is home to Ringwood Brewery where you can have a brewery tour -(not wheelchair friendly) or sit in their courtyard and sample our more well known local beer. If you enjoy wildlife - The Liberty's Owl. Raptor and Reptile Centre is always worth a visit - they have regular flying sections, amazing photography days (advance booking required - but they even take the birds out into the New Forest)
Day Fourteen - Brockenhurst, Tall Tree Trail and Ober Water Walks and then onto the Deer Sanctuary
The forest has so many places to explore - you can park in any of the forest car parks for free, and enjoy a picnic, look at the view, watch the animals gaze. Head off on foot and you will find lots of quiet spaces to enjoy.
As you travel through Brockenhurst then please stop off at the Bakehouse - this is Matt and I's favorite treat - they have lots of savory slices suitable for a picnic lunch, doughnuts, lardy cakes and more treats... there are also lots of other independent shops in the village including a traditional butchers and green grocers if you want to stop up on supplies and would prefer somewhere quiet to shop.
With your picnic packed I can recommend two local walks nearby - Ober Water Walk and the Tall Tree Trail - both are wheelchair accessible - the tree trail is closer to the road if you have children, but both have easier to follow markers and are diverse in character - so you could even do both. I have parked you in the car parks that tend to have an ice cream van as well as toilets available.
Continue on your way then through the Ornamental Drive (the road you are driving on) across the main road and up to the deer sanctuary - where wild deer are fed every afternoon in summer, and if you are lucky you will be able to spot them in the grazing fields.
Day Fifteen - Moors Valley County Park
You can easily spend a day in Moors Valley Country Park and only pay for parking - there are lots of signposted walks to explore, a tree top trail, a fantastic play trail for children, two fantastic play parks. a mini railway, fishing lakes and various paid attractions too including Go-Ape, Bike Hire and Segway, there is something for everyone - a regular program of events and a great place to purchase lunch.
Day Sixteen - Hurst Castle
This has to be Matt and I's favorite castle. It belongs to English Heritage and it is down the end of a really long shingle bank. When our children were small and into scouting we were challenge to take one of the leaders to the castle - he is wheelchair bound and with a variety of ropes we got him there and the castle was accessible... but unless you have a really strong willing team of helpers or a really robust off road wheelchair than can cope with lose gravel - it is a challenge to get too, and sadly in the winter of 2021 one of the wall suffered severe storm damage and collapsed. There are frequent ferries from Keyhaven and it is a lovely journey up the river to the castle - but you need to be able to climb into the boat. It is well worth the effort... with small family groups in the smaller ferries you sometimes get the chance to drive the boat on request. Once there the castle (subject to reopening) has a basic tea room and toilet - and there are lots and lots of rooms and spaces to explore... fantastic place for children as their imaginations can go wild, and one of the best places to view the yachts passing through the Solent. If we have visitors coming from afar, we aways recommend it as it dates back to Henry VIII and is steeped in timeless history! The inside of the castle is currently closed due to a collapse earlier in the year.
Before returning to Lymington, drive through Milford to the Royal Oak - it is a great fantastic pub with a wheelchair accessible toilet, and the perfect way to rest for the evening.
And Still to Explore
A trip to the north of the New Forest, A day trip to the Isle of Wight is a must with ferries running from Lymington to Yarmouth., a maybe a visit to a World Heritage Site - Stonehenge and Salisbury are just an hour away by car.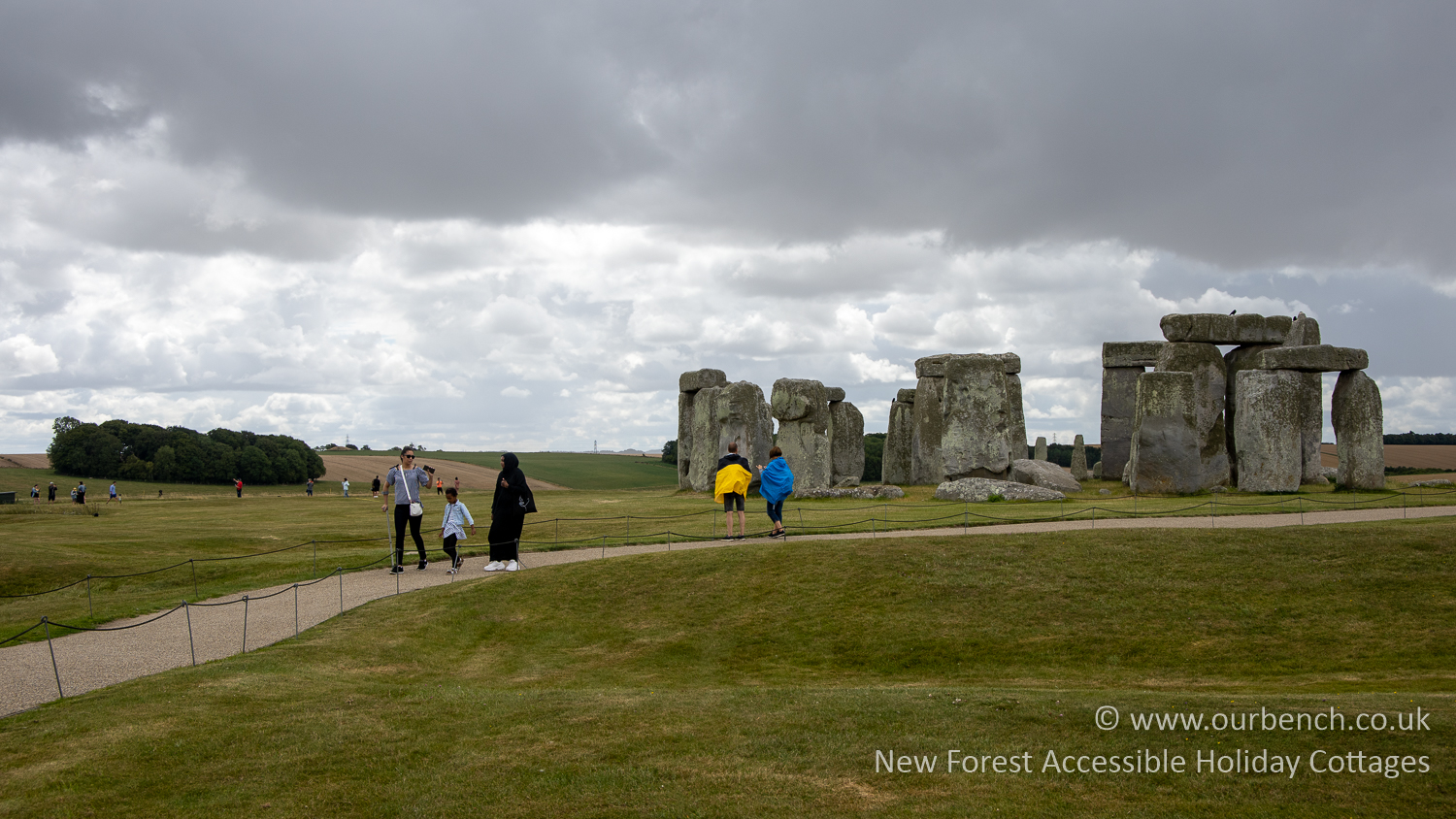 All the places listed on our New Forest pages, Lymington pages and our day trip suggestions, as well as our suggestions in our photo gallery, and a free photo shoot to fit in, or one of our many other suggested walks, and then if they are running there are all the seasonal events to look forward too - we share lots of these on our facebook page.
Have you booked a long enough stay or maybe you need to come back again soon!
Check out what 2 week holidays we have available in the coming months and book now!