Bench Cottage Accommodation
The accommodation comprises of an open-plan kitchen, lounge and dining area, two bedrooms and a fully accessible shower room, all to a very high standard of decoration and comfort. Sleeping up to four people including well behaved children and infants..
The kitchen is fully equipped, having split level work surfaces, electric oven, gas hob, microwave, fridge with small freezer, dishwasher and washing machine. All kitchen utensils, cutlery and china are supplied, in fact everything you are likely to need to make your stay pleasant, relaxing and enjoyable.
The lounge and dining area have comfortable seating, including a electric riser/recliner chair, leather style suite and a television with DVD. A selection of books on the New Forest to help plan your holiday. A gate leg dining table and four dining chairs make this a delightful room.
Master bedroom is a twin bedded room - one single bed is a full profiling bed (electric foot and head riser bed with added height adustability) and the other single is an electric head and foot riser bed. Both beds can be accessed via the ceiling hoist that is fitted - you will need to bring your own slings. The ceiling hoist is a Westholme transactive hoist, with a two point spreader bar. There is also a wardrobe, bedside units with an alarm clock, for a perfect nights sleep.
The second smaller bedroom is a twin, access to the beds is from the centre of the room with a bedside cabinet, alarm clock and bedside light and chest of drawers. These beds also have electric head and foot risers. All beds will be made up with fresh linen, duvets and pillows before your arrival.
The modern fully accessible wet room has a ceiling hoist (H-Hoist). The toilet is wheelchair friendly with space both sides for lateral transfer or you can choose to transfer on with the ceiling hoist. We can provide a shower chair which you can wheel over if required, and there is freestanding toilet frame if grab rails are required. There is a large shower area and intergreated grab handles. The adjustable washbasin can be lowered for your comfort. We can have a wall mounted hinged changing stretcher (Changing bed) with adjustable back rest, which folds back against the wall, which can be used in the shower area. The H-Hoist can be used to position the guest as required.
All bed-linen, towels and tea towels along with gas central heating and hot water is included in our tariff.
To the outside there are garden tables and chairs, a parking and turning space, all hard standing with tarmac and easy level access to your front door.
We have a range of accessible equipment available to make your stay more enjoyable.
Bench Cottage Access Statement is available online and you can view a rate card here - both open in a new window.
Bench Cottage Photo Gallery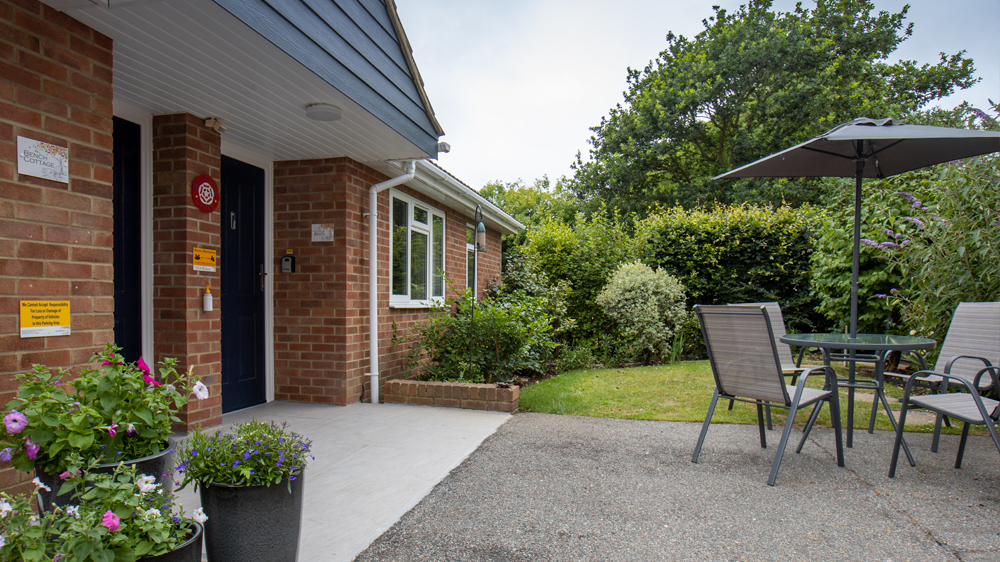 Bench cottage is down a private driveway with parking outside your holiday cottage.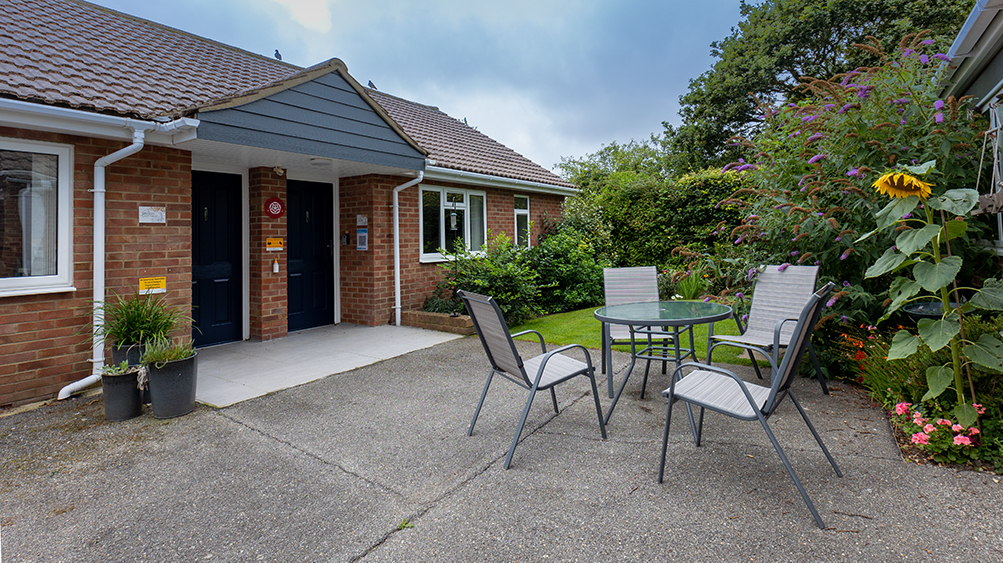 Little Bench and Bench Cottage - level access holiday cottages photographed in the autumn sunshine.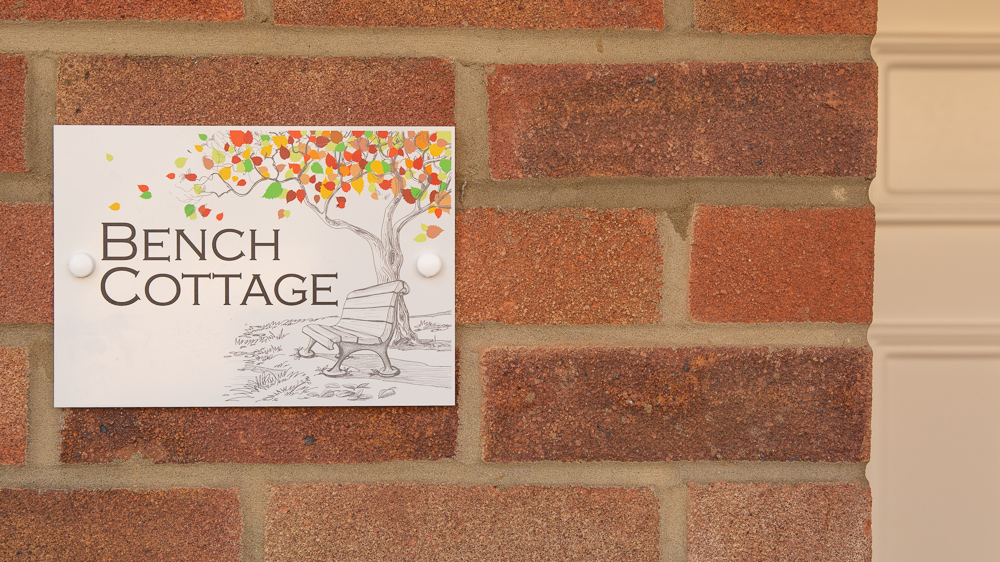 Your holiday cottage is the left hand property next door to Little Bench.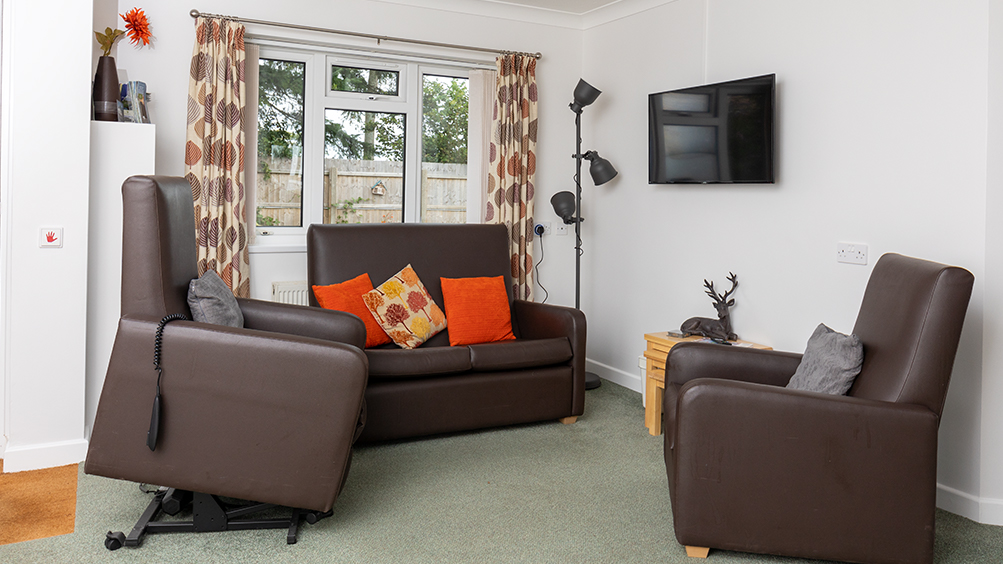 The open plan lounge has seating for four including a riser recliner chair.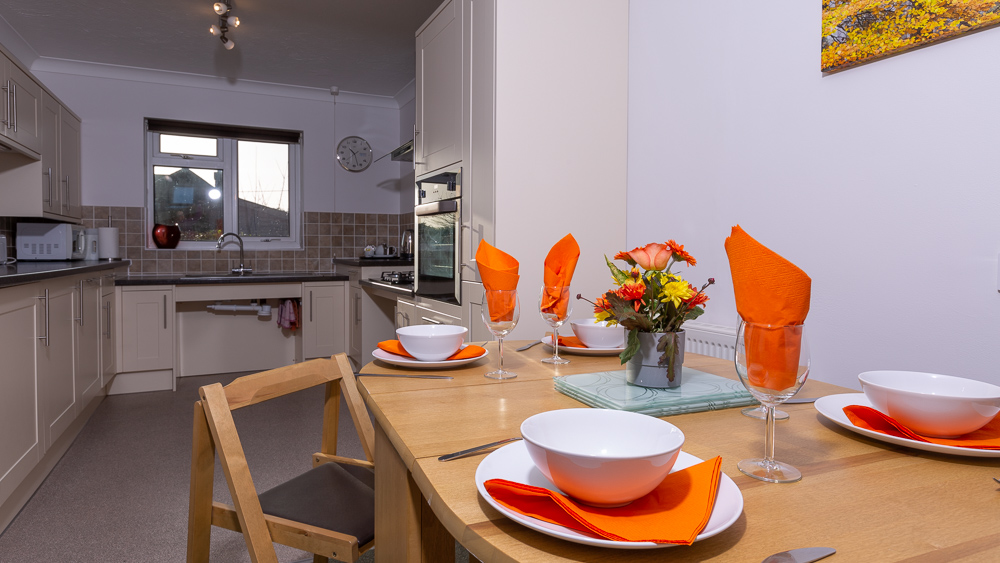 The dining area has a gate leg table with four chairs which store underneath, enabling you to maximise the space as required.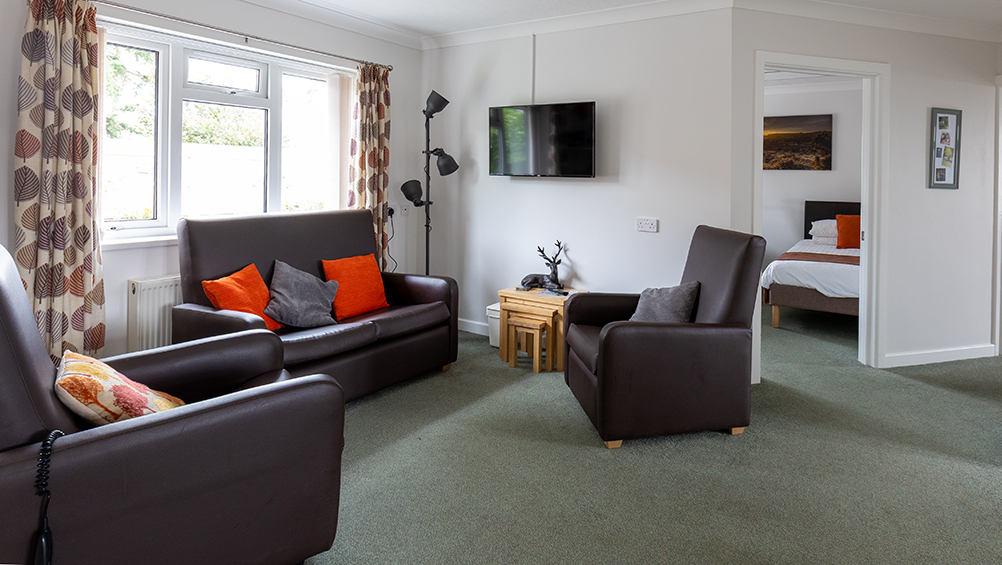 Our cottages are level access throughout with the rooms leading off the living space.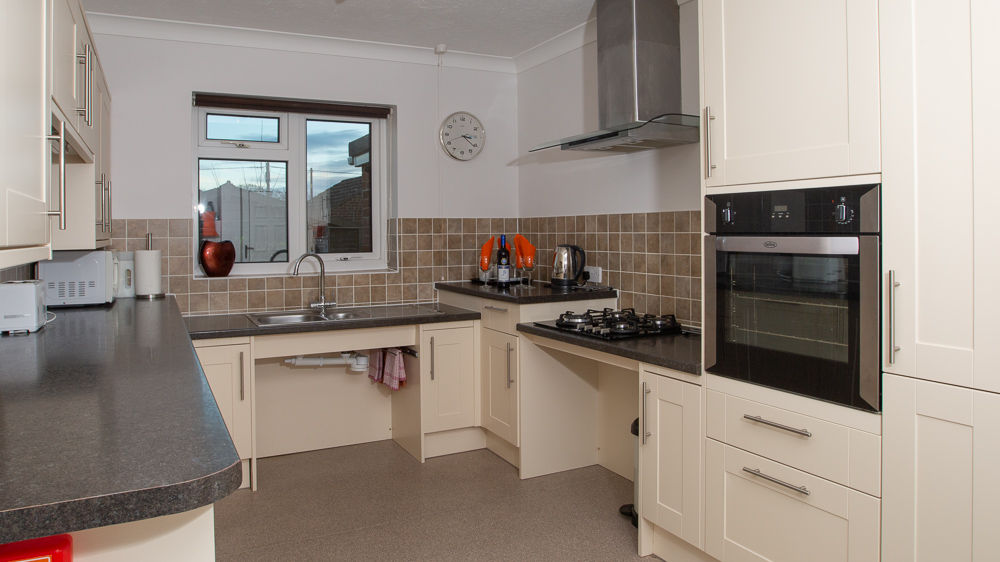 The kitchen has split level surfaces for accessibility and includes a washing machine, dishwasher, fridge, microwave, oven and hob.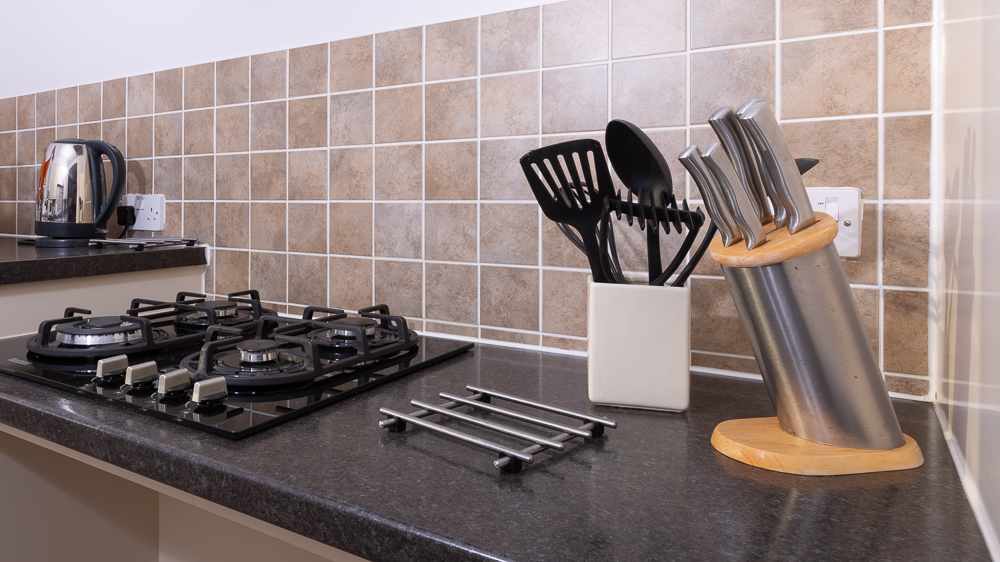 The kitchen has a range of cooking utensils, plates and glasses for 4 guests.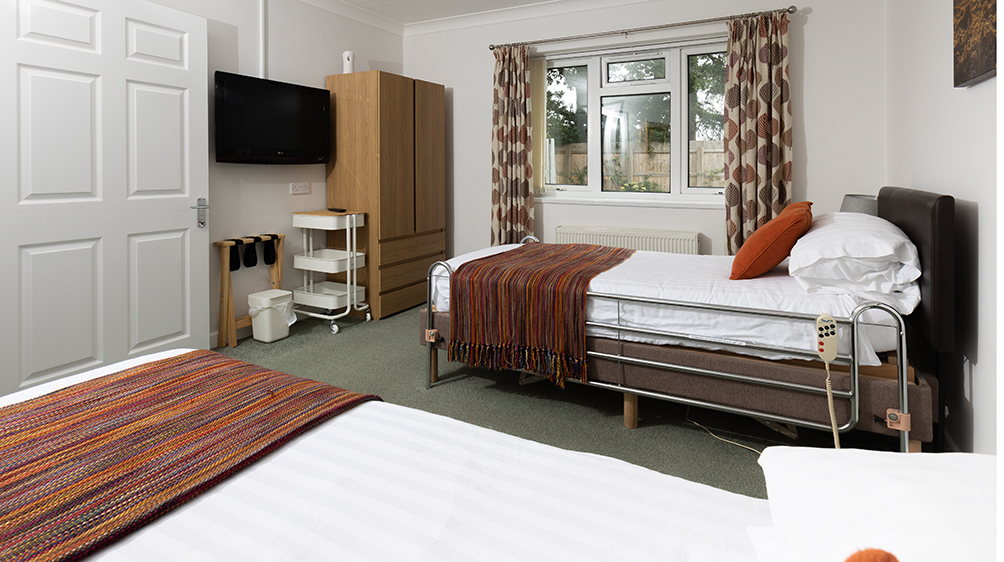 The master bedroom has twin beds, wardrobe and chest of drawers - photo includes an optional overbed table which can be requested. Both beds are accessible by ceiling hoist.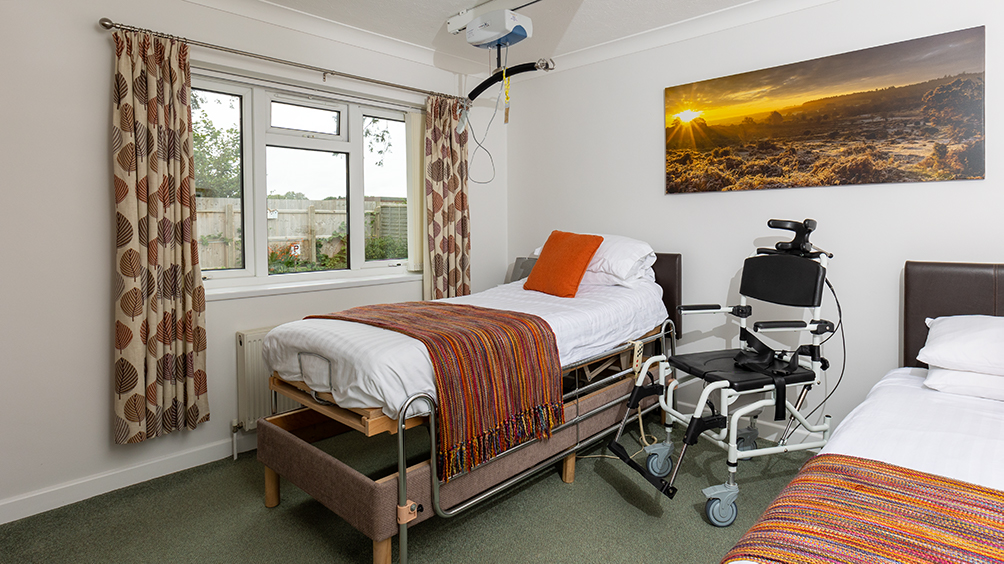 The master bedroom has a height adjustable profiling bed and ceiling hoist. There is room for a wheelchair, and an optional wheel in shower chair can be provided.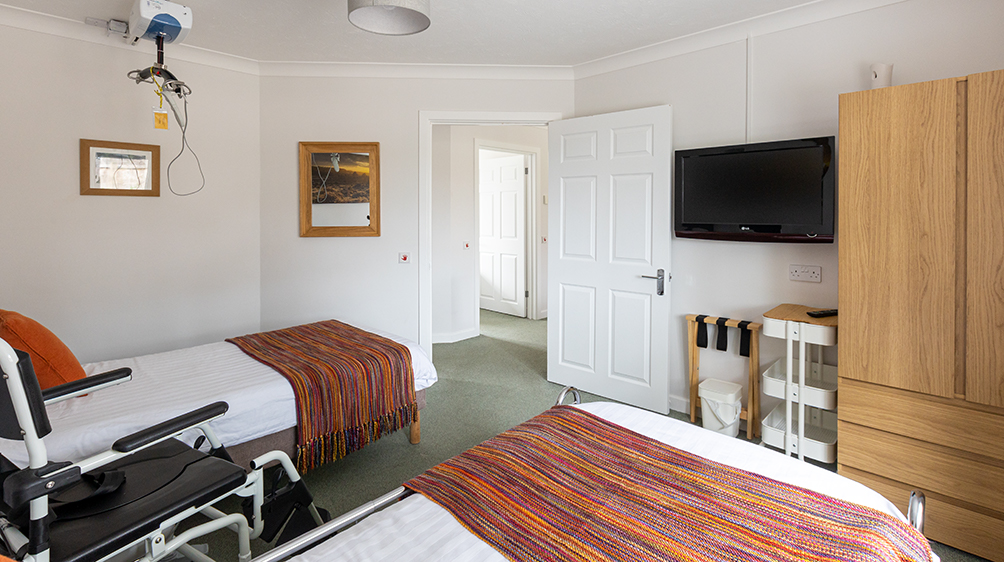 The second bed in this room has electric head and foot riser with turning space.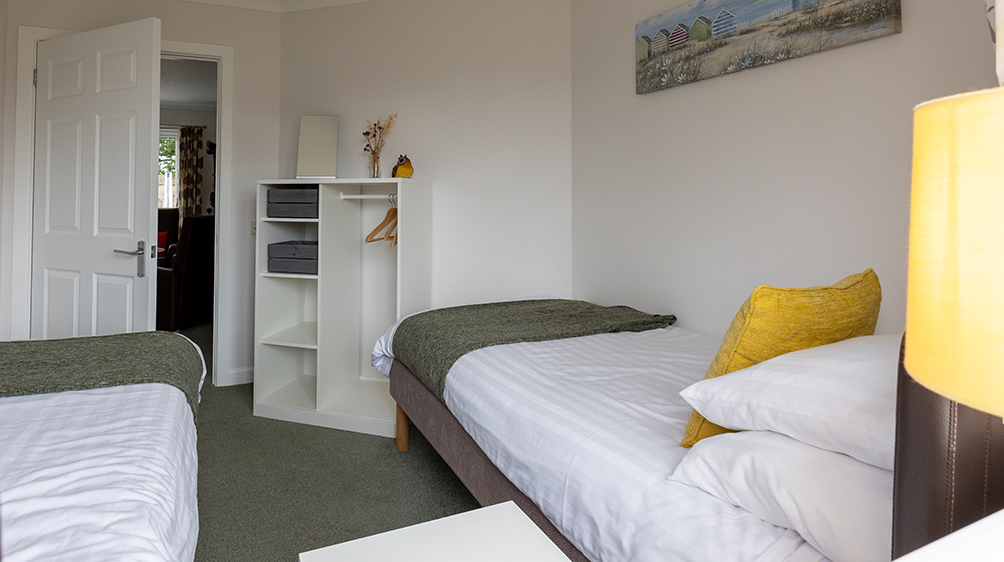 The second bedroom is a twin room with two electric head and foot riser beds.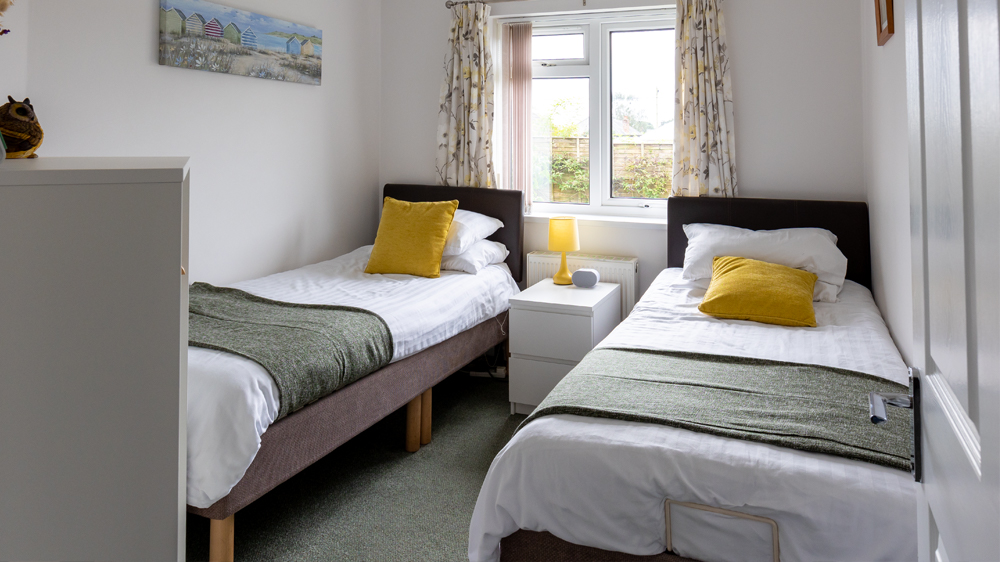 The second bedroom is not suitable for wheelchairs, as turning space is limited, but is ideal for family members and carers.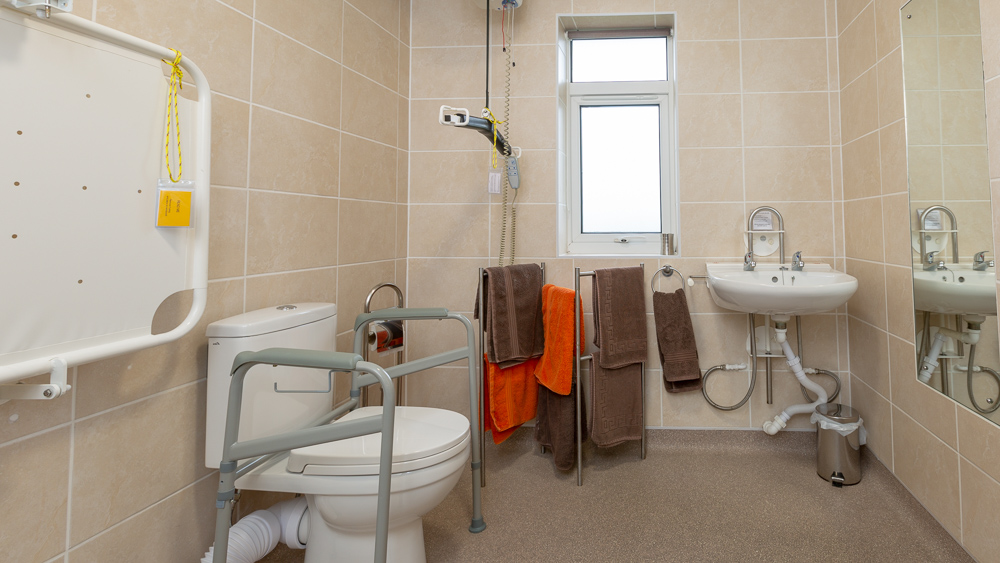 The wet room has a height adjustable sink and a WC with optional grab rails, that can be moved as required.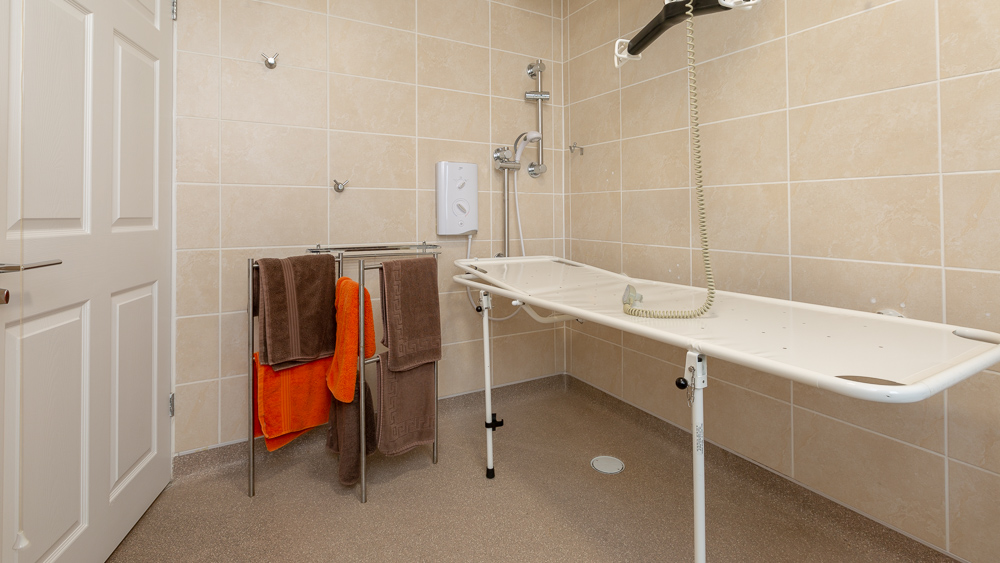 The wet room has level access throughout, there is a drop down changing table with adjustable back rest in the shower area which can be used via the H-Hoist (ceiling hoist)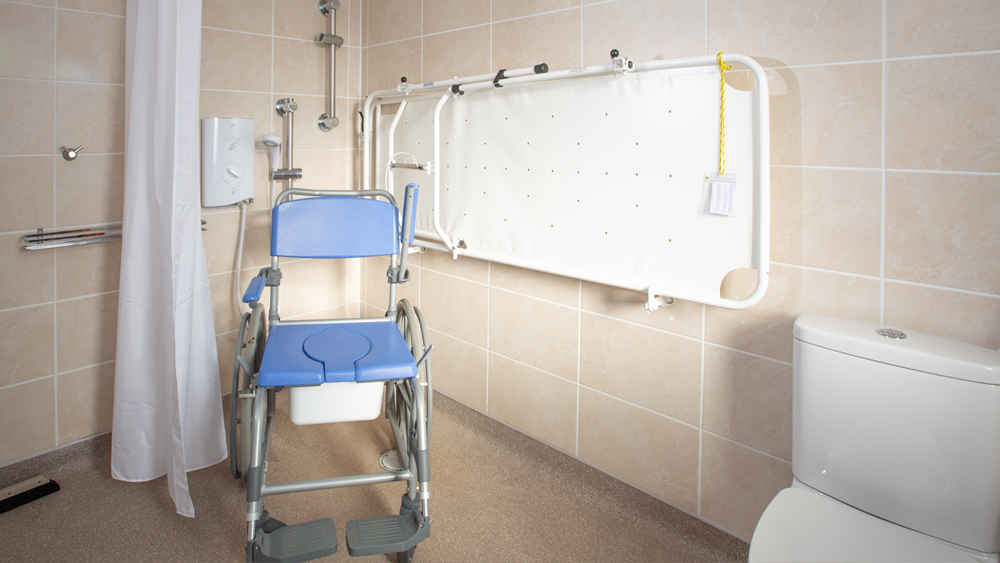 The wet room has level access throughout, the shower is adjustable height and there is plenty of space for wheelchair users, We have shower chairs available.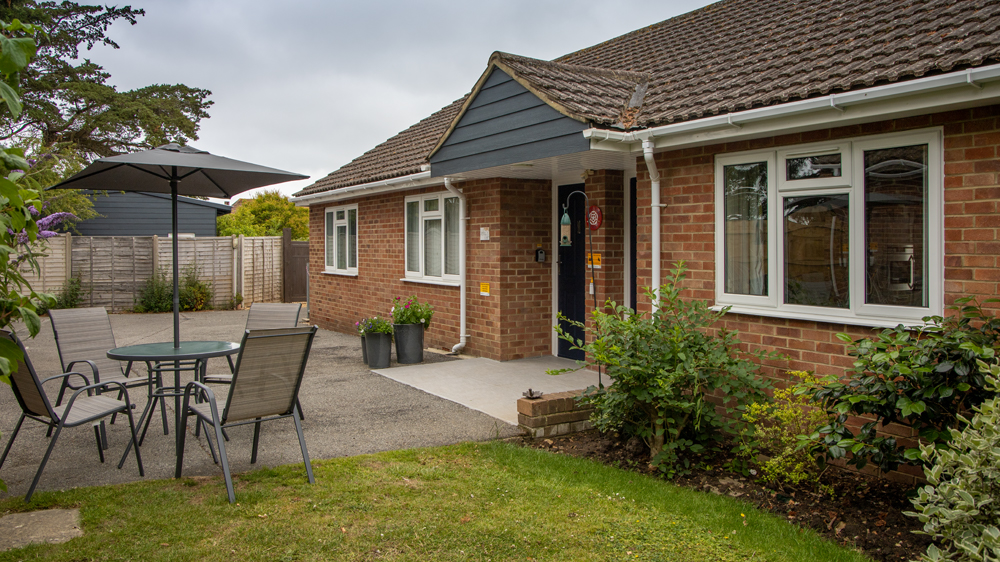 The threshold has a small bump which some power chairs struggle with, so a ramp is available if required. You will find it with the tumble dryer.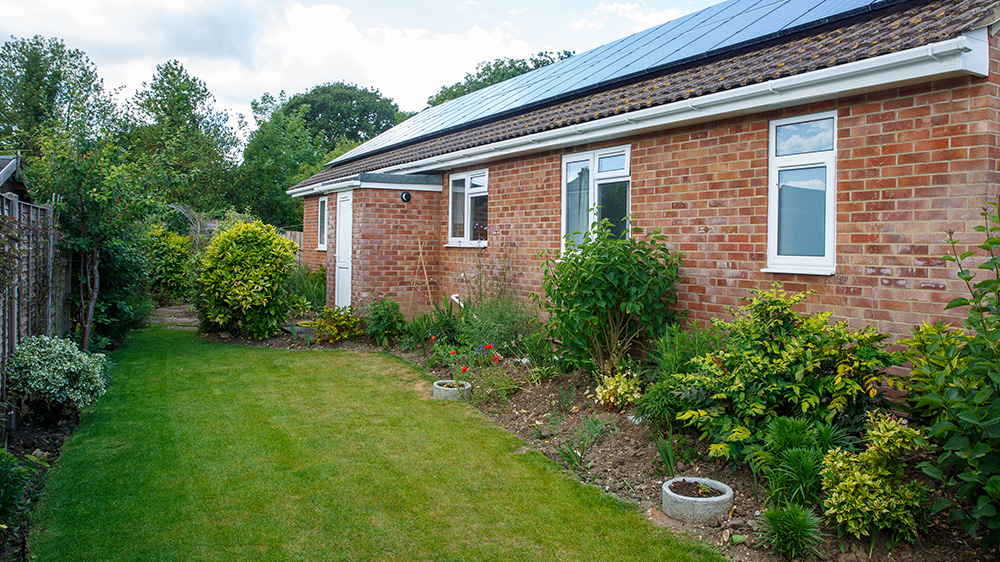 Bench Cottage rear garden is partial laid to lawn and shrubs and is a lovely spot to relax.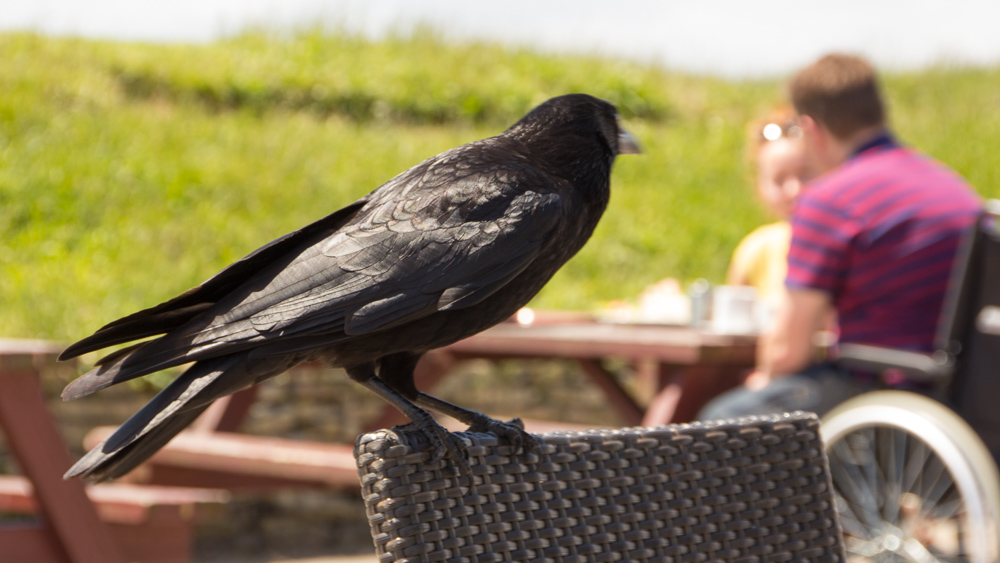 Bench Cottage provide a restful retreat for 4 guests - additional guests and carers can be accommodated in our neighbouring properties.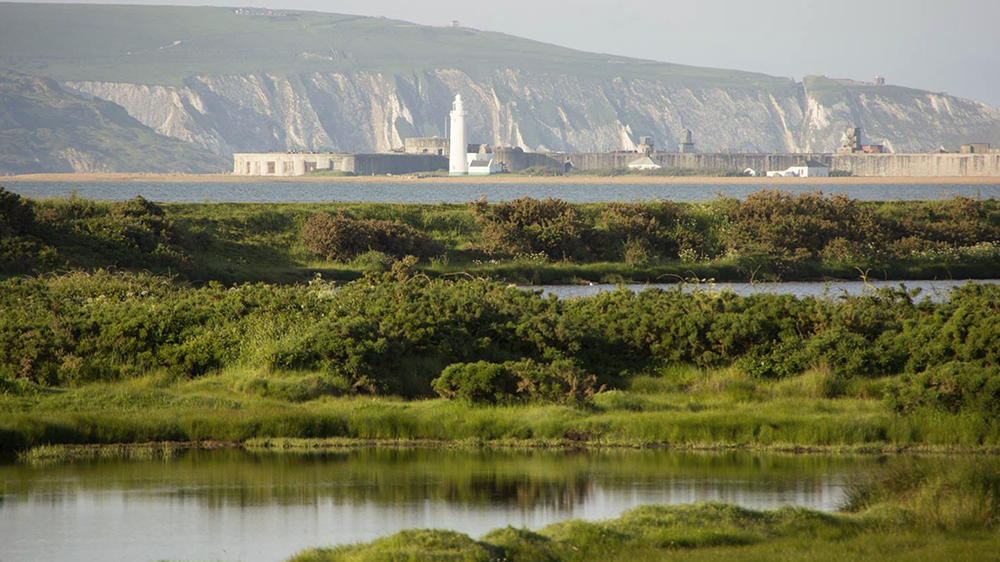 Just a 8km accessible walk from your holiday cottage could enable you to enjoy moments like this. Ideas of places to visit can be found in the useful information section - there are also suggested routes in the holiday cottage ready for you.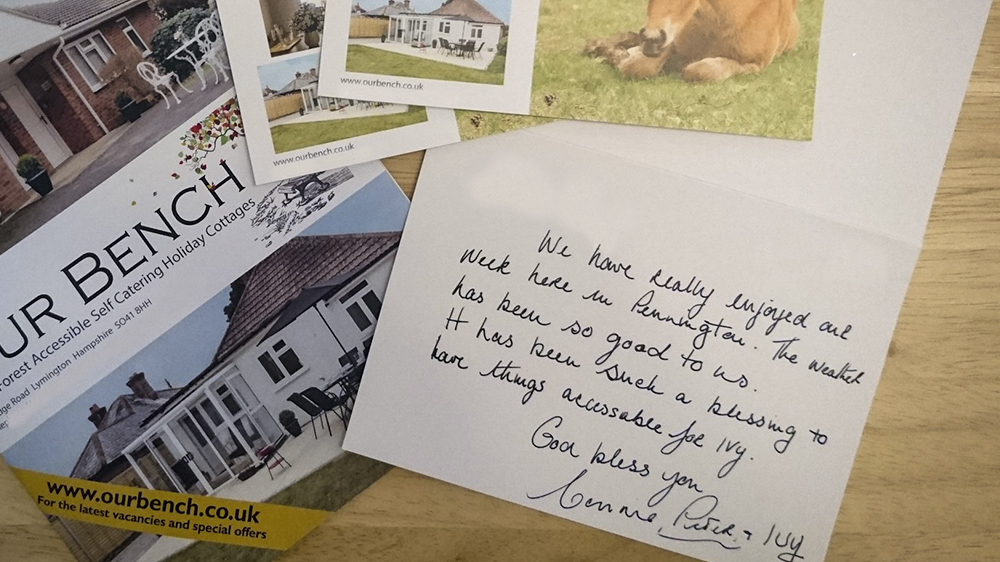 One of the many comments from our previous guests
Book Online
Bookings are Friday to Friday peak season. Weekends (Friday to Monday) and short breaks (Monday to Friday) are subject to availabilty. You can book online (please add any specialist requirements in the comments box) with payment by card and instant confirmation - the underlined dates are days you can start your booking, alternatively you are welcome to complete an enquiry form and we will be in touch as soon as we can, where BACS and cheques payments can be made.
View the rates card here.
Discover Lymington
Lymington has many restaurants, public houses and takeaways and lots of individual shops, as well as a number of national stores. Discover the hidden park behind the shops or visit our market which is held every Saturday from 8am till 4pm, where you can purchase everything you need for your perfect holiday. All within a 20 minute walk or 5 minutes by car. A map giving directions can be found in your cottage.
The New Forest National Park is on your doorstep, where 93,000 acres of forest are waiting for you to explore. Catch the New Forest Ponies wondering through some of the villages, walk through the enclosures and see if you can spot a deer - there are four species of deer in the New Forest.
Come in the spring when the young foals can be seen everywhere, sit in the shade of the forest or on the cliff tops in the summer sun. In the autumn come and see the splendor of the autumn colours, and in winter the forest is a magical place and there are so many attractions and museums to visit whilst you are here - you will find all the details in your cottage.
Explore the local area further and see our suggestions of places to vist, In Lymington, the New Forest, or some Day Trip ideas.