<
Holidays for Autistic People and Hidden Disabilities
Autism Friendly Holidays
We have always prided ourselves in offering accessible holiday accommodation and over the coming months we will be adding more details of how our accessible holiday cottages are accessible for everyone. We are starting our focus on Autism friendly holidays as we are able to offer 'relaxed, self-catering holidays in a safe, non-judgemental, peaceful environment' to families with autism or complex behaviours.
We regularly host families with a wide selection of disabilities, learning disabilities and autism including ADHD and Aspergers syndrome, children who attend special schools and adults living in supported housing. The natural world offers children and adults wonderful opportunities for adventure and exploration, and with the forest and beach nearby we feel that our cottages offer you a great place to base yourselves.
What all the families have in common is a wish for a relaxed holiday for ALL the family. We understand parents find it a challenge to find family friendly and autism friendly holidays to suit everyone's needs. Often parents / carers feel on edge not wanting to be judged by others, not wanting to let their dependents down and hoping everything will be perfect. We can't promise perfection but we will do our best!
We have even created a welcome sheet for you, and we would recommend sharing Alex and Rosie's Adventures in the New Forest written by Autism and Nature and their Colouring Book. We are happy to print these for you and leave them in the cottage ready for your arrival.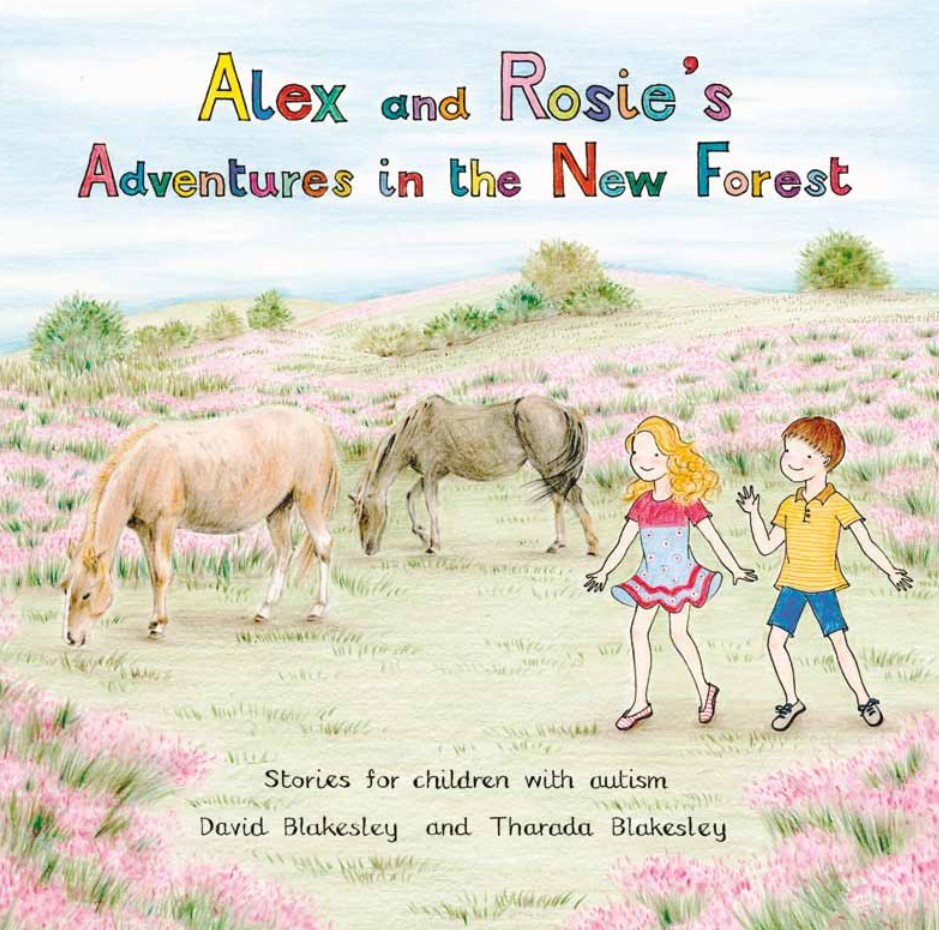 We have joined together with Spectrum holiday to offer accomodation booked through them to have Sensorybox ready for your arrival and you can see this on display in Little Bench below... it can be set up in any of the cottages for you.
Standard to our cottages:
Level access through out with all accommation on the ground floor.
Quiet location
No internal door locks
Window can be locked - as required.
External doors can be locked from the inside and key removed.
Garden Bench has a private garden, gate could be climbed over so supervision recommended.
Passworded Wifi as standard
Open spaces - park at the end of the road, recreation field behind - plenty of room to run and let off energy.
High adjustable profiling beds have side rails as standard - these can be removed and we recommend unplugging the bed, if the rising and reclining action is not required.
Supermarket shopping can be arranged by yourselves - delivery can be arranged on the morning on your arrival day, so that it is in the cottage on arrival if required.
A range of additional disability equipment is available.
Both hosts are familiar with BSL (British Sign Language) and qualified to Stage 1, Helen is also Makaton trained having completed levels 1-8.
We are familiar with the sunflower scheme for hidden disabilities and have lanyards available if you forget yours.
Explore the area - if you like to explore we have a variety of ideas highlighted on our web site, if you have a particular interest then please let us know and that may be other places that we are aware of but have not listed yet. This is a great place to plan ahead so you can sit down before your visit and plan the best way to spend your holiday.
We are always on hand to help plan your holiday - we are happy to answer your calls or for you to send an email - there are no "wrong questions" we are happy to answer and to think about the reply if we don't know or no one has asked that already.
For a unique holiday experience Crazy Creatures can offer Educational & fun encounters with amazing creatures from all over the world in your holiday cottage garden! They offer unique ways of safely viewing, handling within regulation guidelines, and lots of interactive ideas for fun and learning for all ages! From giant bugs to tortoises, lizards, snakes and owls! Their 'creaturemobile' is fully equipped for mobile visits for families or small groups - bringing the fascinating world of wildlife to your door for a unique & memorable display! This could be the perfect holiday treat... arrange Crazy Creatures to come along to the cottage and offer you a unique encounter and invite along our photographer at the same time... the memories can be captured forever! You would need to book with them direct.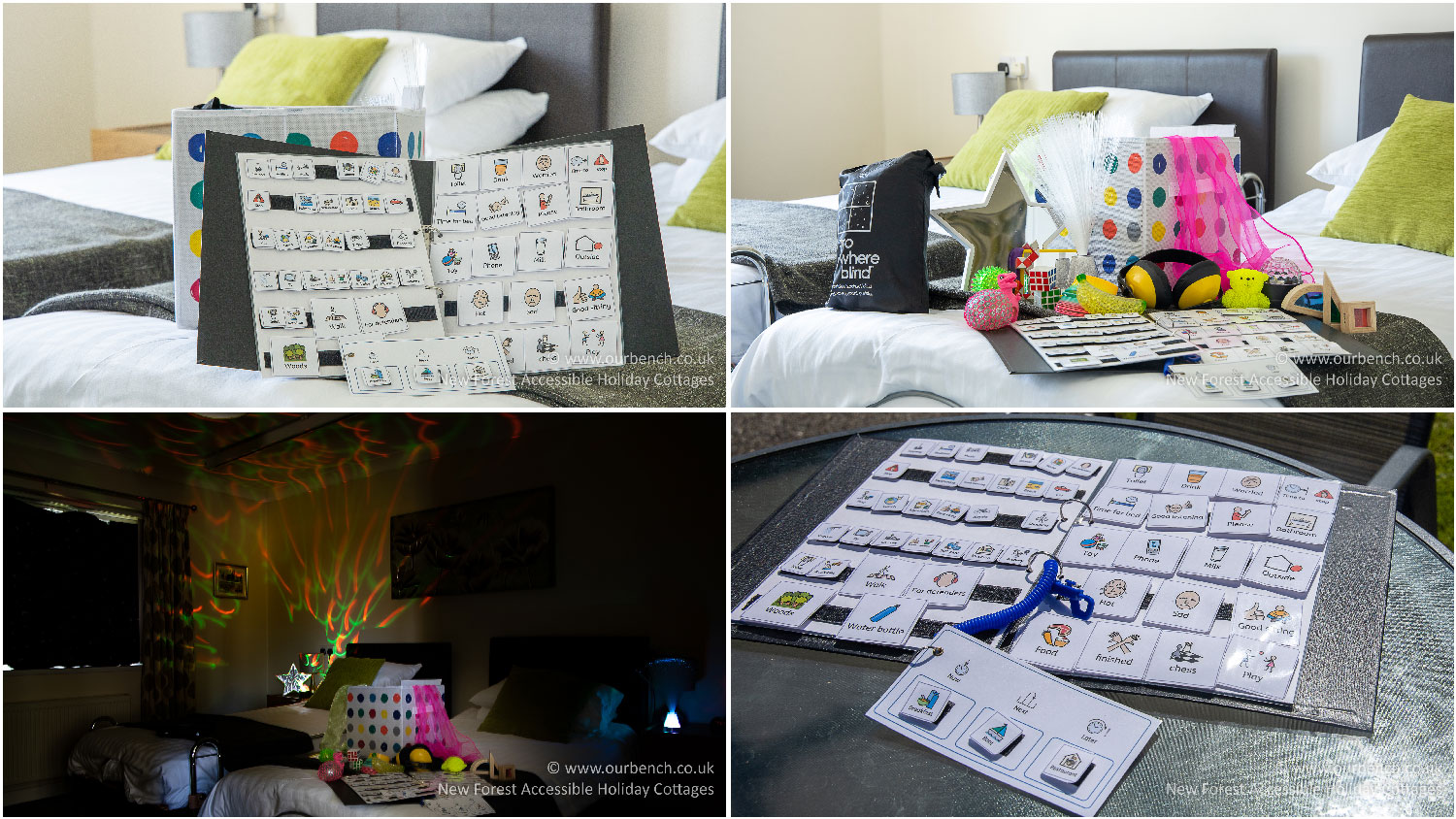 If you book through Spectrum holidays then we include a Spectrum Pack (see above photos and video) which includes a visual resource park, a range of sensory toys and lights and a visual rescsource pack - you can find more details here: Spectrum Holidays.This is not available on #BookDirect holidays.
To book please choose the cottage most suitable for your needs. Little Bench sleeps 2 (one bedroom), Bench Cottage sleeps 4 (2 bedrooms and they both share a garden which has direct access to the road, Garden Bench sleeps 4 (2 bedrooms) with private enclosed garden and fully detached.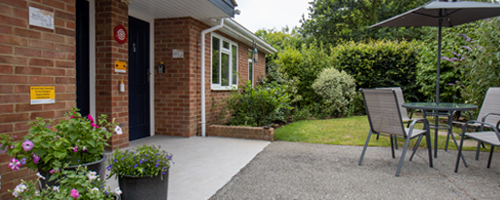 Bench Cottage
Sleeps up for 4
Profiling bed and head and foot riser beds both accessible by ceiling hoist
Second twin bedroom with electric beds
Accessible Wet Room with H Hoist & changing table
Adjustable height wash basin
Shower chair available
More Details and latest Availability
Sleeps up for 5
Profiling bed / carers bed with discrete ceiling hoist
King or twin bedroom with head and foot riser beds.
Private secure garden with a lovely sunny patio
Wheelchair friendly kitchen
Traditional woodburner for winter breaks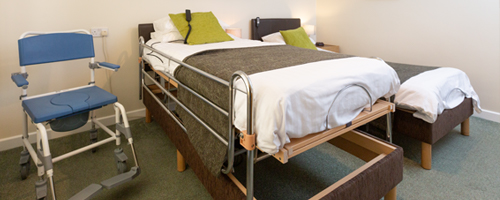 Sleeps up for 2
Profiling bed and head and foot riser beds both accessible by ceiling hoist
King or twin bed options.
Accessible Wet Room with optional shower chair
Riser Recliner Chair
Level access throughout
Autism Holidays and Holidays for Hidden Disabilities - Book Now!
New Forest Self Catering Holidays - Fully Accessible Hampshire Holidays - Wheelchair Friendly Self Catering - South Coast Accessible Holiday Homes - Lymington Self Catering - Family Disabled Holidays - Holiday with changing table - Self catering with changing table - Lymington - Specialist New Forest Holidays - Hampshire Short Breaks - New Forest Holidays - Powerchair holidays - Accessible Wet Rooms - Hoist Holidays - Hampshire - Holiday with riser recliner chair - Carers Bed Holiday - Profiling Bed Holiday - Disabled Changing Table Holidays - Holidays with carers - Height Adjustable Bed Holidays -